Hillary Clinton to Propose High-Frequency Trading Tax, Volcker Rule Changes
Her proposals amount to a doubling down on her bet that appeasing her party's populist base is worth more than the possibility of alienating wealthy donors.
by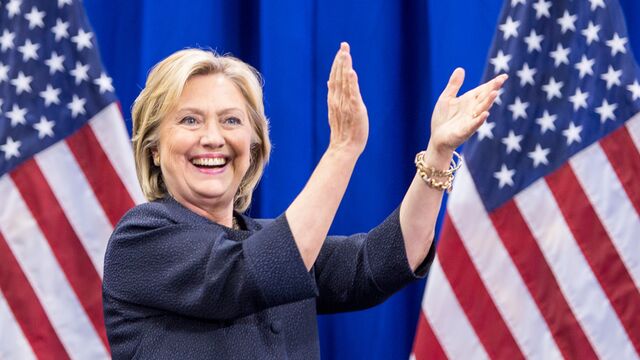 Hillary Clinton will propose a tax aimed at penalizing "harmful" high-frequency trading strategies and offer ways to strengthen the Volcker Rule as she unveils another set of proposals Thursday aimed at what she has termed risky Wall Street behavior.
The Democratic presidential front-runner plans to call for a tax targeting trading strategies that rely heavily on order cancellations, a Clinton aide said Wednesday, previewing her announcements on the condition of anonymity.
Coming one day after she strengthened her position with the Democratic Party's powerful labor constituency by announcing her opposition to the Obama administration's Trans-Pacific Partnership trade deal, Clinton's proposals amount to a doubling down on her bet that appeasing her party's populist base is worth more than the possibility of alienating wealthy donors. Among other things, they take aim at the traders author Michael Lewis dubbed "flash boys" and at banking industry's biggest recent lobbying win on financial regulations.
And it gives her ammunition for her first face-to-face confrontation with Senator Bernie Sanders, the Vermont socialist who has become Clinton's surprise chief rival for the Democratic nomination. The two meet in the Democrats' first nationally televised presidential debate on Tuesday.
In what her campaign is billing as an effort to put the interests of the investing public before those of high-frequency traders and "dark pools," where securities are traded privately, Clinton will suggest that the Securities and Exchange Commission launch an overhaul of stock market rules to allow for equal access to markets, greater transparency and the minimization of conflicts of interest. 
She also would overturn a recent legislative win for the banking industry's by reinstating a Dodd-Frank requirement that banks move certain derivatives activities into separate business units that lack government support, such as deposit insurance. Senator Elizabeth Warren spurred a populist outcry over Wall Street's December victory on the issue, which is known as swaps push out. Former Massachusetts Representative Barney Frank, the coauthor of the Dodd-Frank bill, has been advising Clinton and her team. Another key player: former Commodities Futures Exchange Commission Chairman Gary Gensler, now the Clinton campaign's chief financial officer.
Ty Gellasch, a former Senate aide who helped draft the Volker Rule into law said that Clinton's proposals "will likely go over well with progressives for two reasons: they will like the policies and they also show Gary Gensler, the progressives' favorite post-crisis regulator, is shaping her economic plans."
Clinton's targeting of high frequency trading may amount to her most meaningful punitive move against Wall Street so far. The proposal would also take aim at the practice of spoofing, the practice of rapidly submitting fake orders and then withdrawing them to try to move asset prices in a desired direction.
The Justice Department and the Commodity Futures Trading Commission recently accused a London trader of spoofing that contributed to the May 2010 flash crash, when close to $1 trillion in U.S. stock value vanished in minutes before prices recovered.
Though Clinton, who served eight years as a senator from New York, has considerable Wall Street backing, she is under pressure from the left wing of her party. In Bloomberg Politics focus groups earlier this week, voters cited Sanders' championing of middle class workers as a reason for his appeal.
Clinton, who plans to release more details on her plan Thursday,  is calling for corporate fines for wrongdoing to come with penalties that hit individual workers' bonuses and for extending the statute of limitations for major financial fraud to 10 years. Her tax proposal would punish trading firms that use computer formulas to constantly update the prices they offer to buy or sell securities.
Automated trading firms defend the practice, saying cancellations are part of managing risk and aren't manipulative. Orders are often canceled because the speed at which equity markets operate quickly makes many quotes stale, firms say. But James Angel, associate professor of finance at Georgetown University, said that too many cancellations are a burden on the stock market because of the increased messaging traffic and extra effort to process market data. At the same time, he said, market-makers need to cancel and re-enter their orders every time the price of securities change. Angel speculated that if Clinton's proposal were to become law, stock exchanges might respond by issuing new order types that let high-speed traders modify their orders without actually canceling them.
Ever since she launched her campaign earlier this year, Clinton has sounded a markedly populist note. "We also have to go beyond Dodd-Frank. Too many financial institutions are still too complex and too risky," she said in July. On Wednesday, she broke not only with the Obama administration that she served as secretary of state, but with the trade policies of her husband in rejecting TPP. President Bill Clinton signed the NAFTA pact which many union leaders blame for offshoring U.S. jobs.
Hillary Clinton has framed her push to get tough on Wall Street as part of a philosophy of "clear-eyed capitalism," making sure that fairness for all is part of the equation. 
"I believe we have to build a growth and fairness economy. You can't have one without the other," she said in July during her first major economic speech of the campaign, at the New School University in New York. "We can't create enough jobs and new businesses without more growth, and we can't build strong families and support our consumer economy without more fairness."
(Contributing: Jesse Westbrook, Sam Mamudi, David Michaels, and Silla Brush)
Before it's here, it's on the Bloomberg Terminal.
LEARN MORE