Iranian Conservatives Depict Obama Handshake as Pact With Devil
by and
"Chance encounter" at UN seen as betrayal of revolution

Zarif-Obama handshake takes political pressure off Rouhani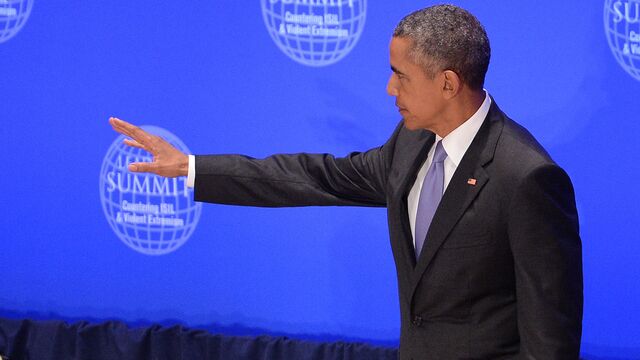 Iranian hard-liners wasted no time labeling Foreign Minister Mohammad Javad Zarif as "unrevolutionary" for shaking hands with Barack Obama.
It's the first gesture of its kind between a U.S. president and a high-ranking Iranian official in more than three decades. It took place at the United Nations General Assembly in New York and overnight caused a stir back in Tehran. Lawmaker Hamid Rasaee posted a picture of a handshake between a man and a red-skinned devil with long black nails on his Instagram account.
While pundits had speculated whether Iranian President Hassan Rouhani would be the recipient of a staged Obama's cordial outreach, it was in fact Zarif in what was actually a "chance encounter" along a UN corridor with Obama and Secretary of State John Kerry, according to a U.S. official.
Back in Tehran, the Rouhani administration attempted to contain some of the political backlash. An unidentified official close to the Iranian delegation rejected rumors that the interaction was planned, the official state news agency IRNA reported. A 2013 phone call between Obama and the newly-elected Iranian leader had gotten some so riled up, they hurled eggs at Rouhani.
Critics of Rouhani are saying it was no coincidence.
'Chance Encounters'
"Two years ago Rouhani spoke with Obama by chance, last year, Zarif and Kerry took a stroll without any prior intention in front of international media," Rasaee said on his Instagram account. "This year, Zarif accidentally bumped into Obama and had an exchange. History is full of these chance encounters," Rasaee wrote on his page.
Iran watchers predicted a handshake between Obama and Rouhani during the Iranian president's first trip to the U.S. following a July nuclear agreement that eased tensions between his country and Western powers. While that didn't happen, the Zarif-Obama interaction further pushes the limits of what has historically been deemed acceptable by the Islamic Republic's establishment.
"This action took place even though serious warnings had been given to the negotiating team to not give the Americans the opportunity to display such show against the Islamic Republic," wrote hard-line news website Rajanews.
'Ugly Thing'
The symbolic act was "an ugly thing to do and Zarif should apologize to the Iranian nation for this," said Mansour Haghighatpour, deputy head of the parliament's national security and foreign policy committee, according to the Fars news agency. "Shaking hands with the Americans and drinking Nescafe with them, this should only happen if they apologize to us."
On July 14, the Islamic republic and six world powers ended a 13-year standoff over its nuclear program. Haghighatpour is a member of a special Iran parliamentary committee established to review the nuclear deal.
U.S.-Iran ties have improved although there is "still a long road to travel" before the two nations could resume anything resembling normal relations, Rouhani told journalists Sept. 25.
Before it's here, it's on the Bloomberg Terminal.
LEARN MORE