Donald Trump and Ted Cruz Rally Raucous Conservatives
On a hot afternoon, the rhetoric got even hotter.
by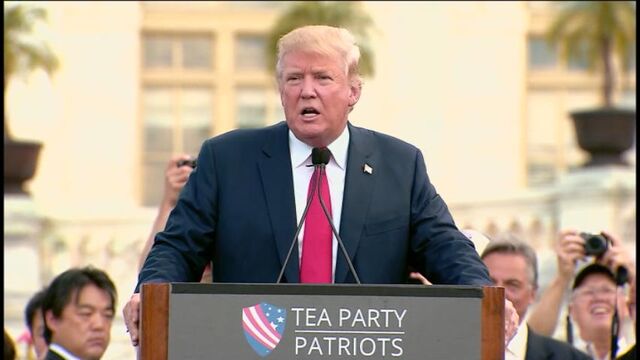 There were the "Barack Obama = Neville Chamberlain" and "#jewishlivesmatter" and "STOP the Iran nuclear deal" signs. There were "Don't Tread On Me" flags. There were concerned citizens handing out flyers in support of a constitutional convention and a roaring crowd of conservatives furiously opposing the Iran accord. And there was Donald Trump, bragging about his negotiating skills.
"I've been doing deals for a long time. I've been making lots of wonderful deals, great deals. That's what I do. Never ever, ever in my life have I seen any transaction so incompetently negotiated as our deal with Iran. And I mean never," he said at a Wednesday rally on the West Lawn of the United States Capitol hosted by the Tea Party Patriots. "We will have so much winning if I get elected that you may get bored with winning," Trump promised the cheering crowd. "We are going to turn this country around."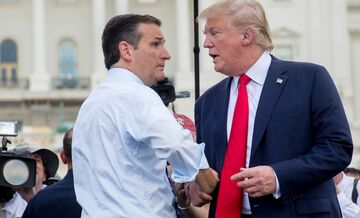 An oppressively humid late-summer afternoon did nothing to dampen rowdy spirits at the rally, which had something for everyone opposed to President Barack Obama, including two presidential candidates who want to replace him. The crowd seemed torn between the real estate mogul, who's leading the Republican presidential field, and Texas Senator Ted Cruz, a Tea Party favorite who invited Trump to the rally and spoke before him. 
On the same day that Democratic presidential candidate Hillary Clinton appeared in Washington to defend the Iran deal, the rally revealed a raw and intense anger over the Iran deal that parallels the conservative backlash to Obamacare in 2010, a sign that the accord could have a similarly lasting impact as a political issue even if the deal goes through, as is expected.
"If this deal goes through we know to an absolute certainty people will die," Cruz told the crowd. "You cannot wash your hands of that blood." He said Republican leaders in Congress have the power to stop the deal, even though Democrats have the votes to protect it, if they delay a vote on a resolution of disapproval on the grounds that the president violated the Iran Nuclear Agreement Review Act by failing to disclose "side deals" between Iran and the International Atomic Energy Agency.
Members of the crowd didn't sugarcoat their beliefs about the president either.
"I believe in his deepest heart of hearts that Barack Obama does not like America. He does not believe we're a force for good in the world, that we'll never never get over the sin of slavery," said Carol Frazier, 61, a legal assistant in Worcester County, Maryland. "He has a visceral dislike of the United States." She wasn't sold on Trump, however.
"Donald Trump has no core philosophy. His core philosophy is Donald Trump," she said. "He's kind of like Barack Obama—narcissistic." Frazier, who is drawn to Cruz as well as Republican candidates Ben Carson and Carly Fiorina, said Republicans are drawn to Trump because he "does not need to kowtow to the powers that be, and he doesn't give a flying you know what what anybody thinks of him. People are enjoying that."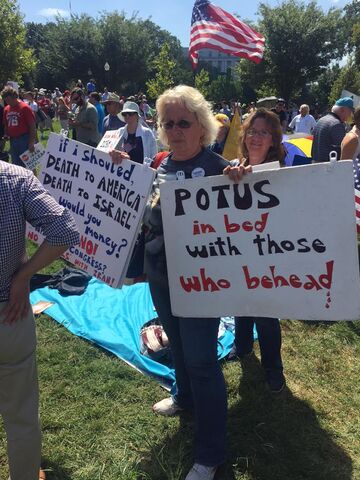 A few feet away stood a blonde woman wearing sunglasses and holding two signs. One read "POTUS in bed with those who behead" and another called for rejecting the Iran deal. "I think President Obama is a Muslim, and he hates our country and he hates the military, I'm sorry to say. That's why he's gutting it and feminizing it," said 60-year-old Fran Ginter, who is retired.
Nearby, a man wearing a Captain America costume donned Cruz pins and waved the largest American flag of the event as well as an equally large Marine Corps flag. Soon afterward, Trump was briefly introduced to R.E.M. song featuring the lyric, "It's the end of the world as we know it"—which appeared to sum up how many in the crowd see the Obama administration.
"I think he really is a Muslim. I think he's protecting the Muslims," said Ed Hoffman, 71, a retired college professor from Annapolis, Maryland. And how is he doing that? "He's giving them the power to wage nuclear warfare." Hoffman plans to vote for Trump in the Republican primary. "I like the fact that he's using his own money, he's not responsible to anybody, and he wants to change the country," he said. "It's time to not vote for a politician." Cruz is his second choice.
Danielle Kaufmann, a 27-year-old owner of a board game store in Howard County, Maryland, said she had no idea why Obama was so eager to implement the internationally backed nuclear accord. "He kind of sneaks in these deals," she said. "It's all about himself. He's doing it for selfish reasons." She called Trump "outspoken, smart. He gets to the root of the problem. He's a very successful businessman and that's what this country needs." But she said she'll probably support Cruz in the Republican primary. Can he defeat Clinton? "She's toast," nodded Kaufmann. "She's dug herself a big enough grave."
Obama and Clinton weren't the only targets of the crowd's anti-establishment fervor. Mentions of Republican House Speaker John Boehner of Ohio and Senate Majority Leader Mitch McConnell of Kentucky were met with a chorus of boos.
"As a Republican, I think Boehner and McConnell should both be replaced. They lied to get Republicans elected," said Doug Torr, a 59-year-old engineer who traveled to Washington from Dallas for the rally. Undecided between Trump and Cruz, Torr said the two GOP leaders didn't do enough to fight Obamacare and Obama's immigration policies. "They're goose stepping with Obama and following his lead on everything. I have zero faith in those guys. They're liars."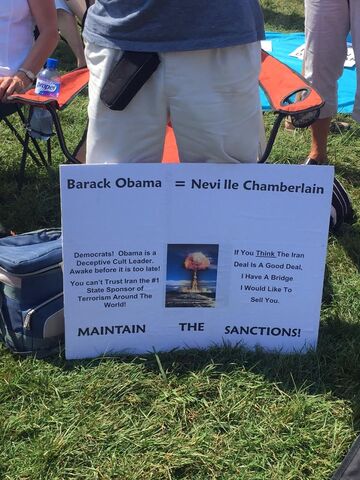 John Impaglia, a 68-year-old who owns "several small businesses" in central New Jersey stood before the stage flashing two signs, one in yellow and one in orange, reading "NO NUKES FOR IRAN" that included drawings of a stop sign and skull. "I couldn't believe what a lousy deal they're making," he said. "All they're doing is capitulating to everything Iran wants."
Impaglia isn't sold on Trump. "I don't know if he's capable of changing anything," he said. But he wasn't opposed to the Republican front-runner, either. "Trump certainly has the courage to stand up for what he believes in," he said, "and there are not a lotta people I this town that have that courage any more."
But there were plenty of fans of the reality TV star turned presidential candidate, who channeled the crowd's anti-Obama fervor in his speech that managed to lambaste a Iran and the president in one breath. "They rip us off, they take our money, they make us look like fools," Trump declared. "We are led by very, very stupid people. Very, very stupid people. We cannot let it continue."
Amit Mathur, 30, a small-business owner in the D.C. area who immigrated from India, said he likes Trump because of his views on immigration, not in spite of them. "Donald Trump is making a lot of sense these days, like on illegal immigration for instance," he said. Mathur said he's also excited about Cruz and is interested in Carson, for a quality that definitely was not much on display at the rally. He called Carson "a calm guy—I like that about him."
Walter Butler, 70, a real estate broker, came to D.C. from Myrtle Beach, South Carolina, to protest the Iran deal. He's a fan of Trump's lack of political correctness. "He's the only one who seems to stand up against PC," he said. "Ted Cruz is second for sure."
Before it's here, it's on the Bloomberg Terminal.
LEARN MORE