Cuomo Said Ready to Back $15 New York Minimum Wage at Biden Event
Freeman Klopott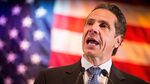 New York Governor Andrew Cuomo is expected to propose a $15-per-hour statewide minimum wage Thursday in a joint appearance with Vice President Joe Biden, according to a person familiar with the plan.
The proposal would follow the July recommendation by a panel formed at Cuomo's request that the wage floor for just fast-food workers be raised to $15 by 2018 in New York City and by 2021 in the rest of the state. The wider increase, which would affect all industries, needs approval by the legislature, said the person, who spoke on the condition of anonymity because the plan isn't final.
Melissa DeRosa, a Cuomo spokeswoman, didn't immediately respond to a request for comment.
Cuomo, a Democrat, would face stiff opposition in the Republican-controlled Senate, which this year blocked his plan to raise the minimum to $10.50 per hour statewide and $11.50 in New York City. The current floor, $8.75, will rise to $9 at year-end.
When Cuomo's effort failed, he circumvented lawmakers by using a state law to empanel a wage board that recommended the increase to $15 for fast-food workers. That recommendation must still be accepted by Cuomo's labor commissioner to take effect under the law, which limits action to a single industry.
The Wall Street Journal earlier Wednesday reported on Cuomo's plans.
The event Thursday will mark the second time in less than three months that Cuomo has held a joint appearance with Biden, who is considering a presidential campaign. Cuomo, who served as housing secretary for President Bill Clinton, has already endorsed Hillary Clinton for president. Last week at an event in Albany, Cuomo told reporters that he's sticking with the former first lady regardless of Biden's decision.
"It doesn't have to be that you support one person means you hate the other person," Cuomo said.
Before it's here, it's on the Bloomberg Terminal.
LEARN MORE