Scott Walker's Record on Wind and Solar Power Leaves Renewables Industry Fuming
Five years after he took office, renewable energy in Wisconsin is lagging the boom in the rest of the country and industry blames him for the shortfall.
by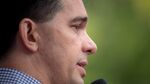 Scott Walker's up-and-down campaign for the Republican presidential nod has produced at least one constant: As far as wind and solar developers are concerned, the Wisconsin governor may be the worst man for the job.
Five years after Walker took office, renewable energy in Wisconsin is lagging the boom in the rest of the country and industry blames the two-term governor for the shortfall. Walker and his appointees have pushed new restrictions on windmills, cut tax incentives and research funding and last year imposed the nation's highest fees on rooftop solar owners.
Wind and solar advocates hope to make Walker pay, painting him as an enemy of consumers who want to break away from big utilities. Most Republicans on the 2016 trail talk of ending subsidies and regulations favoring renewables, tying them to President Barack Obama's environmental agenda. Walker's worked hard to make that a reality on the ground, said Amy Heart, a spokeswoman for the industry-backed Alliance for Solar Choice.
"It's pretty clear that Republican primary voters won't support Governor Walker," Heart said in a telephone interview. "They're not going to support a politician who supports state-sponsored monopolies who are killing competition."

The alliance represents companies including SunRun Inc. and SolarCity Corp., the biggest rooftop solar installer in the U.S. It's suing Wisconsin over the new fees, which Heart blames for "the worst" environment in the nation for home solar owners.
It's another potential headache for a campaign that has suddenly hit rough waters. Leading polls of Iowa caucus voters for much of the year, Walker, like the rest of the Republican field, has been lapped by Donald Trump. The Wisconsin governor fell to third (tied with Texas Senator Ted Cruz) in the most recent Bloomberg Politics/Des Moines Register Iowa Poll, backed by 8 percent of likely caucus-goers. Trump led with 23 percent, followed by retired neurosurgeon Ben Carson at 18 percent.
In a statement, the governor's office said focusing on wind and solar misses the "full picture" of what Walker's done to support renewables. The administration has backed tax breaks and loans for biodigesters that create power from farm waste as well as small-scale generators that let diesel trucks reduce idling, the e-mailed statement said. The state surpassed its goal of producing 10 percent of electricity from renewable sources in 2013—two years ahead of schedule.
"Renewable energy isn't only confined to wind and solar," Laurel Patrick, a spokeswoman, said in a statement. "Governor Walker wants residents and businesses to have as many options as possible when it comes to energy resources."
Walker, at an Iowa candidates' forum in March, said he supported an "all of the above" energy policy that didn't favor any particular source. The country needs as many different "energy options as possible out there and if I was in a position as president I'd advocate for that."
Still, while wind and solar installations have surged around the U.S., growth in Wisconsin has slowed down under Walker. The state hasn't added any new wind capacity since 2011, according to the Washington-based American Wind Energy Association. And no Midwestern state has added fewer megawatts of solar in that time, says the Solar Energy Industries Association, another Washington group.

"The last five years here have been tough on renewables and it really started when the governor came in," said Tyler Huebner, executive director at Renew Wisconsin, an advocacy group whose members include Portugal-based EDP Renewables and Photovoltaic Systems LLC of Amherst, Wisconsin.
Exhibit A among Walker critics is the monthly charge on solar owners approved in December by the state Public Service Commission.
The fee adds as much as $30 a month for the typical solar customer within the boundaries of the state's largest utility, Milwaukee-based We Energies Corp., Huebner said.
We Energies said solar users still rely on the company's electric grid and should pay their share to maintain it. It's an argument made by utilities around the U.S. in recent years. While regulators elsewhere have mainly rejected or scaled back such requests, the Wisconsin commission approved. The measure passed 2-1, with two Walker appointees voting in favor.
The fees help make Wisconsin "an outlier" when it comes to support for solar around the U.S., said Ben Inskeep, an analyst at North Carolina State University's Clean Energy Technology Center. "Among all the cases we've seen in the country, this is probably one of the top ones in terms of reducing the value proposition for residential customers."
Walker's rocky relationship with the industry goes back even farther. Within weeks of taking office, he endorsed a bill in 2011 to expand the buffer area required around new wind turbines. The legislation was supported by realtors who said the turbines hurt neighbors' property values.
While the measure never passed, the uncertain regulatory climate has virtually shut down new wind development in the state, according to Huebner.
The state has made life harder in other ways, industry says. Wisconsin officials have refused to clarify rules on whether solar companies can lease their panels to homeowners, keeping out national players like SolarCity and SunRun, according to Heart, of the Alliance for Solar Choice. They've also resisted increasing Wisconsin's renewable power requirement, which trails that of neighboring states. In February, Walker moved to eliminate $8 million in funding for the Wisconsin Energy Institute, part of a package of $250 million in cuts to the state university system. 
"If you add up all the steps and all the signals coming out of the current administration, it's not welcoming, that's for sure," said Gary Radloff, a policy analyst at the institute, which conducts research with private sector energy companies. Wisconsin's become "an island of renewable-energy stagnation amid a sea of growth." 
Critics look at Walker's record and see the ideological imprint of Charles and David Koch, the billionaire Republican campaign donors. The Koch-backed Americans for Prosperity provided funding and volunteers during Walker's rise to power in Wisconsin. That group, and another partly funded by the Kochs named the American Legislative Exchange Council, have championed efforts around the U.S. to roll back state incentives for renewable power, calling them a distortion of the free market.
Patrick, the governor's spokeswoman, didn't respond to questions about the new solar fee or wind-siting rules. The state provided $900,000 in seed money last year for a private energy-research center in Milwaukee, she said. It's also provided more than $16 million in revolving loans for energy efficiency and renewables projects, according to her statement.
Whether Walker's energy record affects the presidential campaign is anybody's guess. Most Republican candidates say they oppose clean-energy subsidies like the federal tax credit for wind power, arguing the industry should stand on its own. Walker, like the rest of the field, has also blasted President Obama's new climate-change regulations, which are expected to boost renewables over coal-fired power plants.
The rules would be "a buzzsaw to the nation's economy," Walker said during an Aug. 3 campaign stop in New Hampshire. "I want to balance a sustainable environment with a sustainable economy."
CORRECTION: This article was updated to correct the role of the American Legislative Exchange Council in the debate over renewable energy in the U.S. 
Before it's here, it's on the Bloomberg Terminal.
LEARN MORE