Hillary Clinton Finds Her Voice Making Gun Violence Plea Following Roanoke Murders
The Democratic front-runner delivered one of her best moments on the campaign trail so far.
by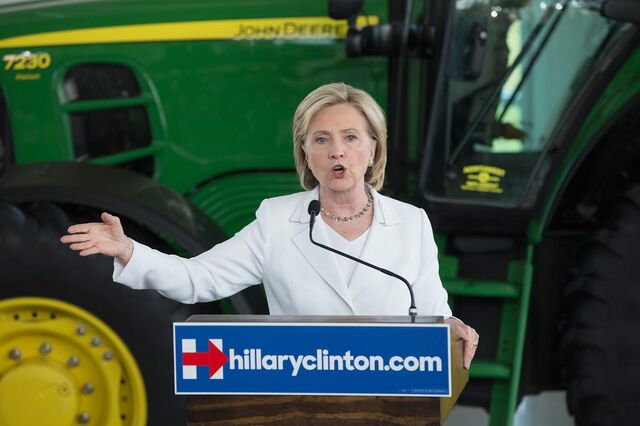 Hillary Clinton hasn't had many transcending moments on the stump so far in this campaign, but she did have one this week as she spoke about gun violence in the wake of the on-air murder of two young TV journalists from Roanoke, Va.
The Democratic frontrunner had been speaking to reporters in front of a John Deere tractor at a stop in Des Moines on Wednesday, and she had already stepped away from the podium after taking only three questions. When a reporter shouted one about the shooting deaths of Adam Ward and Alison Parker, though, she returned to the microphone and cleared her throat.
"First of all,'' she said, shaking her head and reaching for words, "I was just so—stricken, to think that these two young people doing the work that you guys do every single day would be murdered, on live television. And I will extend my condolences and sympathies to their families and their co-workers, and pray for the woman who last I checked was still in critical condition. But I also want to reiterate,'' she said, slowly and softly, "that we have got to do something about gun violence in America, and I will take it on.''
What she said was not so different from what President Obama has said on any number of occasions. To simply focus on her words, though—that "I believe we are smart enough, we are compassionate enough" to find a way to protect the Second Amendment while also lowering the body count of the status quo—doesn't begin to do the moment justice. Because it really wasn't what she said, but how she said it, with what came across as honest heartbreak. 
Authenticity has long been an underestimated component in the emotional calculus that Americans use to choose a president. But this year, realness is finally having its break-out moment, as that's what supporters of such different candidates as Donald Trump and Bernie Sanders and Ben Carson all say they like most about them. The perceived lack of that "telling it like it is"quality is both Clinton's biggest obstacle and the leading argument for a Joe Biden run. 
A new Quinnipiac University poll's most challenging finding for Clinton is that when asked in a completely open-ended way what word they most associate with her, the top answer respondents supplied was "liar," followed by "dishonest," and "untrustworthy." (The word most associated with Donald Trump? "Arrogant." And Jeb Bush doesn't seem to inspire creativity; the word most associated with him was "Bush.")
The woman who stood in front of those cameras in Des Moines and spoke from the heart about gun deaths, however, wouldn't make even the most skeptical observer wonder who had coached her or poll-tested her response.  
It was in some ways like her New Hampshire moment in '08, when right before that state's primary, in response to a pretty standard, "How do you do it?" question from a voter, her eyes filled with tears. "I just don't want to see us fall backward as a nation,'' she said then. "I mean, this is very personal for me. Not just political. I see what's happening. We have to reverse it."
Much of the commentary at the time asked whether we had to see a woman, or this woman, anyway, in tears before we could warm to her, but it wasn't just that she was down that day; what came through was that she had let her defenses down for that moment, and even in frustration, the result was appealing.
If we saw more of that person, questions about what she was trying to wall off on her "homebrew" server in those private-domain emails wouldn't matter as much, particularly to the many who would like to like her more than they do.
A conundrum for Clinton in trying to just be herself is that, at this point in her career, she is naturally wary and guarded—and not, of course, without reason. But to win the White House, she's almost got to crack the code of how to show us what she did this week on a more regular basis, absent tragedy or sleep deprivation.
Before it's here, it's on the Bloomberg Terminal.
LEARN MORE