How David Kendall Fights for the Clintons
David Kendall has been Bill and Hillary Clinton's lawyer for more than 20 years, but his muted public presence has sometimes left partisan attacks on them unaddressed.
by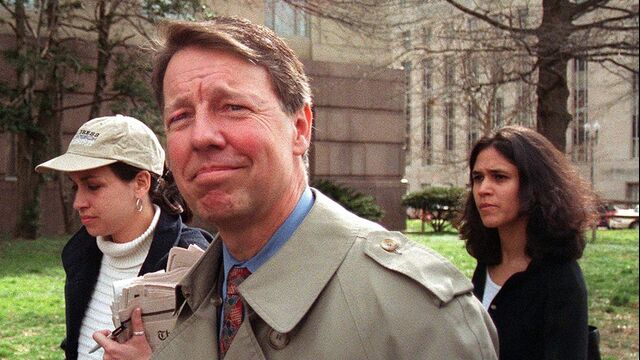 Bill and Hillary Clinton's longtime personal lawyer, David Kendall, is no stranger to managing legal proceedings on behalf of high-profile clients. Yet more than 20 years after he was brought on to take charge of representing the Clintons in the Whitewater investigations, Kendall seems to remain almost resistant to managing public perception even as cases take on increasingly thornier political implications.
On Tuesday, after five months of resistance, Hillary Clinton directed aides to hand over to the Justice Department the personal e-mail server she used to conduct government business as secretary of state, her presidential campaign said. The move came amid revelations that it contained at least two e-mails classified as top secret. Even Kendall himself turned over copies of Clinton's e-mails he'd kept on a thumb drive. Yet Kendall, who works at the Washington white-shoe firm Williams & Connolly, said little publicly about the decision even as media outlets like the Washington Post pronounced that the matter "just keeps getting worse" for Clinton.
This is nothing new for Kendall, who was similarly mum when the Democratic front-runner's campaign announced in late July that Clinton would testify before the the House's Benghazi committee on Oct. 22, while the panel's Republican staff blasted out copies of Kendall's letters to them and demanded answers to lingering questions.
Kendall seems to prefer those dry, official letters to bombastic tweets or podium-pounding press conferences. Writing to the Benghazi committee in March, for instance, Kendall calmly noted that Clinton followed "the normal procedure carried out by tens of thousands of agency official and employees" in her e-mail usage.
Related:
In some ways, Kendall seems a bit like the former first lady he has known since law school, a woman critics have called secretive and whose allies sometimes worry avoids the press and concentrates more on legal victories in actual courts than the court of public opinion.  
The quiet during Whitewater
For most people, Kendall, 71, first came to prominence as he struggled to balance being Clintons' lawyer in the Lewinsky scandal with his apparent belief that legal representation should trump public relations.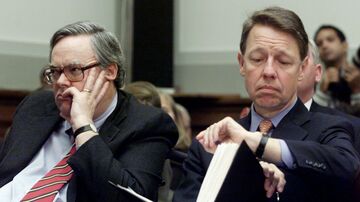 The New York Times reported in May 1997 that Kendall's peers had criticized him for his "famous non-presence on the public stage" while Kenneth Starr, the media-savvy Whitewater independent counsel, took charge of the narrative. Kendall had filed a complaint in federal court that Starr was leaking information, but even then he'd made little public comment and largely kept his head down on issues of image management.
"Tight-lipped doesn't begin to describe the lock of David Kendall's jaw," said George Stephanopoulos, who was then a senior adviser to Bill Clinton, according to the Times. 
Kendall's professional relationship with the Clintons had begun in 1993, when their personal lawyer Robert Barnett, another Williams & Connolly attorney, went "off-duty" because he was married to a White House reporter. The Clintons chose to stay with the firm and went with Kendall, another lawyer and friend whose career in many ways had paralleled their own.
White House insiders from that time who spoke on condition of anonymity recall Kendall avoiding the spotlight, pursuing the legal aspects of the case rather than public relations. For that, the White House largely relied on another of the Clintons' lawyers, Robert Bennett, who was in charge of the separate Paula Jones matter, to handle the media.
"Dealing with the media inquiries, which fell to my area of responsibility in Paula Jones and matters beyond Paula Jones," was the hardest part of the representing the Clintons at the time, Bennett said in an interview. It was he, for instance, who told the media he "smelled a rat" when the Lewinsky story broke in January 1998, even though Kendall was later nominally in charge of Starr's inquiries. 
As the inquiry broadened—eventually encompassing President Clinton's affair with former White House intern Monica Lewinsky—Kendall steered the ship. At times, the tendency to focus on the law infuriated White House political staff. According to the Times, when President Clinton was subpoenaed in the Lewinsky matter, several key aides didn't find out the news immediately, and they blamed Kendall for the lapse.
By late January 1999, as the Times reported then, "Kendall was described as concerned about Clinton's possible legal jeopardy after he leaves office." To combat any future indictment, the Times said, Kendall advocated "extensive fact-finding" and "weeks of discovery and deposition-taking."
Instead, White House counsel Charles Ruff (who passed away in 2000) launched a plan to get the Senate trial over with as quickly as possible, the Times reported. Clinton was acquitted on Feb. 12.
Looking back on those years in a 2001 interview with Wabash magazine, an alumni publication, Kendall said the media scrutiny "was not something I sought nor particularly welcomed," adding that the media "staked out" his house daily and that he relied on friends, running, and family above all to get "a sense of perspective."
"I don't fault the press for following scandal," he said. But, "I think there are a lot of abuses of the press, so that makes life in the public eye often very difficult."
A Clinton-like path
Kendall grew up near Sheridan, Indiana, a town of a few thousand about 30 miles north of Indianapolis. Some of his first experiences with the law came during his college years, "when he was arrested several times (but convicted only once) in Mississippi during the summer of 1964 while attempting to register voters," according to his biography on his firm's website.
It didn't stop him from graduating summa cum laude from Wabash College in 1966 and receiving the prestigious Rhodes Scholarship to study at Oxford University two years ahead of a young Arkansas wunderkind named Bill Clinton.
He then headed to New Haven to study law at Yale University, this time two years ahead of both Clintons. He would first meet the young civil rights-minded Hillary Rodham, then eventually her partner, Bill, and begin a friendship that persists to this day.
"They feel comfortable with each other," Bernie Nussbaum, who was Clinton's White House counsel for his first two years in office, said in an interview. "They go back a long way."
"In my generation, he's one of a very small select group of the very best," Barnett, the Williams & Connolly lawyer who has also represented the Clintons and who has known Kendall since 1972, said in an interview. "David is smart, David is diligent, David is creative, and David lives for vigorously and successfully representing his clients."
(Neither the Clinton campaign nor Kendall commented on the record for this article.)
And despite his avoidance of the press, Kendall's friends and colleagues say he isn't helpless in the face of the media.
"Kendall has been involved in so many high-visibility matters that if he has to do it, he can deal with the press as well as anybody at this point," Nussbaum said.
In the lengthy opening to the confrontation with Starr in November 1998, Kendall laid out most clearly his particular vision of the court of public opin
My task is to respond to the two hours of uninterrupted testimony from the independent counsel, as well as to his four-year, $45 million investigation, which has included at least 28 attorneys, 78 FBI agents and an undisclosed number of private investigators, an investigation which has generated—by a computer count—114,532 news stories in print, and 2,513 minutes of network television time, not to mention 24-hour scandal coverage on cable, a 445 page referral, 50,000 pages of documents from secret grand jury testimony, four hours of videotaped testimony, 22 hours of audiotape—some which was gathered in violation of state law—and the testimony of scores of witnesses not one of whom has been cross-examined.
The whole exercise, he was saying, was nothing more than a smear campaign, politics in legal dressing. Ultimately, however much damage it could have done to the Clinton brand, it was the argument that won.
Before it's here, it's on the Bloomberg Terminal.
LEARN MORE