Donald Trump Might Enjoy a Few Pints With Labour's Corbyn
On either side of the pond, each is shaking things up in his party.
by and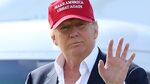 This is an excerpt from Bloomberg's daily Opening Line column.
Jeremy Corbyn, the frontrunner in the contest for Labour Party leader, promises to end austerity in the U.K., nationalize the railways and invest in the NHS. The man sitting atop the Republican field in the U.S.—Donald Trump—wants to repeal Obamacare and get (even more) Wall Street types running the economy.
And, oh yes, keep out the Mexicans.
Politically—and that's just for openers—the two couldn't be further apart. Yet Corbyn and Trump could conceivably find a way to enjoy each other's company—perhaps over a few pints—swapping stories about the havoc they're creating within the Labour and Republican parties.
Because for all their differences, both have succeeded in turning their parties against themselves. Which doesn't seem like an easy thing to do and could bode poorly for victory at the polls, should either of them actually make it that far.

At least Labour has five years to try and sort themselves out against the Conservatives, no matter who ends up succeeding Ed Miliband as party leader in September: Corbyn, Yvette Cooper, Andy Burnham or Liz Kendall.
Since Tony Blair suggested last month that party faithful whose hearts are with Corbyn should "get a transplant," his support has only grown. With the former prime minister a shrunken figure compared with his years leading "Cool Britannia," could he have received a better endorsement?
A sign was a rally held by Corbyn in Camden on Monday. With some 1,500 supporters present—the biggest turnout yet for the left-wing MP—he was forced to address his fans in four separate venues.
Clearly, not everyone was buying Shadow Chancellor Chris Leslie's warning that Corbyn's "starry-eyed, hard-left" economic policies mean at least another decade in power for the Tories. And by the way, Leslie says he wouldn't serve on the frontbench team—along with at least seven other shadow ministers—should Corbyn win. So much for party unity.
Meanwhile, with some 16 or so Republican candidates—excluding a bunch that few people have heard of—gunning for Trump, the GOP could be in a bigger mess with the election less than a year and a half away.
While calling McCain a phony last month may have sparked outrage across much of the party—including candidates Jeb Bush, Rick Perry and Lindsey Graham —it hasn't hurt Trump's support.
Now his rivals are wondering how to take him on—and take him down a peg or two—in Thursday's debate in Cleveland. In truth, their strategies don't seem all that convincing. Time will tell, soon enough. And the infighting continues.
Getting back to those beers. What about in 2020 at Downing Street North in Islington, or maybe the Trump White House & Casino in Atlantic City, Prime Minister Corbyn and President Trump. Who knows?
Before it's here, it's on the Bloomberg Terminal.
LEARN MORE