Poll: Voters in 3 Swing States Back Pope Francis on Climate Change
Voters in Colorado, Iowa, and Virginia strongly support the pontiff's message on global warming.
by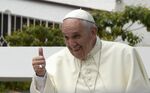 A clear majority of voters in the crucial presidential election swing states of Colorado, Iowa, and Virginia agree with Pope Francis' call to action on the issue of climate change, according to the results of a new Quinnipiac University poll. 
When asked, "Do you agree or disagree with the message from Pope Francis calling on the world to do more to address climate change?" a substantial majority of voters in all three states indicated that they agreed. 
In Colorado, 62 percent of voters said they agreed, while just 31 percent said they did not. In Iowa, the margin was 65 percent who agreed versus 25 percent who did not. In Virginia, 64 percent of voters said they agreed with the pope, while 27 percent disagreed. 
The pontiff has often spoken out on the need for the world to try to combat climate change, and in June issued a papal encyclical aligning the church with the conclusions of the vast majority of scientists that global warming is being caused by human activity. 
"Humanity is called to take note of the need for changes in lifestyle and changes in methods of production and consumption to combat this warming, or at least the human causes that produce and accentuate it," the pope wrote. "Numerous scientific studies indicate that the greater part of the global warming in recent decades is due to the great concentration of greenhouse gases…given off above all because of human activity."
While the pope's message appears to have resonated with a majority of voters in the three swing states, it has been far less well-received by Republicans there. In Colorado, while 93 percent of Democrats agree with the pope, Republicans disagree by a margin of 53-38 percent. In Iowa, 44 percent of Republicans say they disagree with the Pope on climate change, while 40 percent said that they agree. In contrast, Democrats in the Hawkeye state overwhelmingly agree (by a margin of 90-4) with the Pope. In Virginia, 84 percent of Democrats side with the Pope compared to the 10 percent who do not, while just 42 percent of GOP voters did, compared to 46 percent who did not. 
"There is a big partisan split as Democrats in Colorado, Iowa and Virginia agree with the pope on climate change while Republicans disagree," said Peter A. Brown, assistant director of the Quinnipiac University Poll.  
Independent voters, meanwhile, were somewhere in the middle, agreeing with the pope by a margin of  61-31 percent in Colorado, by 69-22 percent in Iowa, and by 69-23 in Virginia. 
While a slight majority of those surveyed said that climate change was not a moral issue, a much greater percentage said they believed that global warming was a result of human activity (62-32 percent in Colorado; 66-27 percent in Iowa; and 64-27 percent in Virginia).
Conducted from July 9-20, the Colorado poll consisted of land line and cell phone responses from 1,231 voters and has a margin of error of +/- 2.8 percentage points; 1,236 Iowa voters with a margin of error of +/- 2.8 percentage points; and 1,209 Virginia voters with a margin of error of +/- 2.8 percentage points. 
Before it's here, it's on the Bloomberg Terminal.
LEARN MORE