What #BernieSoBlack Can Teach Bernie Sanders and His Supporters
What will he do next, and, more importantly, can he connect with black voters who think his fight against income inequality ignores racial injustice?
by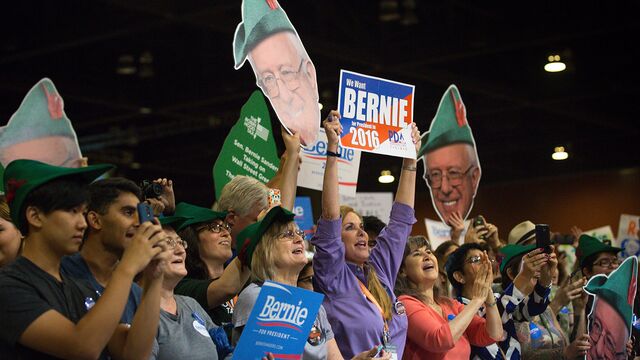 As bad as Senator Bernie Sanders uncomfortable encounter with Black Lives Matter protesters on Saturday may have been, the reaction from his followers may be doing the real damage.
After protesters cut short his discussion with Jose Antonio Vargas, an immigration activist, at the liberal conference Netroots Nation on Saturday, Sanders argued that he'd been fighting for civil rights for 50 years, "but if you don't want me to be here, that's OK." He later cancelled several scheduled events that day, including a meeting with minority activists. Meanwhile, as the news of the encounter spread online, Sanders supporters started tweeting in the candidate's defense, noting that he participated in the March on Washington and was arrested protesting housing segregation. 
But what Sanders supporters don't get is that many African Americans know about Sanders' history fighting for civil rights. The question is what Sanders will do next, and, more importantly, whether he'll be able to connect with black voters who think his fight against income inequality ignores racial injustice. 
Roderick Morrow, who runs a humor podcast called "The Black Guy Who Tips," saw the response to Sanders play out over social media, and noticed that Sanders supporters were tweeting "cut and paste" responses outlining Sanders history. "It's almost as if they're saying 'he's even black than you are,'" Morrow said. That prompted the #BernieSoBlack hashtag, which gathered over 24,000 mentions on Twitter Sunday.
Others joined in:
The hashtag pokes fun at the idea that people criticizing Sanders on his platform in 2015 either don't know or don't full appreciate the work Sanders did 50 years ago.
Morrow said the hashtag went viral because his experience with Sanders supporters online was widespread. Some accused him of just being a Hillary Clinton supporter, though his dream candidate is actually Massachusetts Senator Elizabeth Warren. Of the five Democratic candidates, Warren's views align most closely with Sanders, and the founders of Ready for Warren went on to form People for Bernie.
Instead of attempting to end the debate over whether Sanders is addressing minority issues, he said, Sanders supporters should listen. "Maybe it speaks to a certain insecurity in his supporters," Morrow said of the reaction, but in the end this could make him a stronger candidate. 
Part of running for president, Morrow said, involves addressing the concerns for the different factions of your constituencies. When Obama was running for president he said he was for civil unions, but not same-sex marriage, and the LGBT community "held his feet to the fire on that issue," Morrow said.
"To me that's a positive thing," he said. "I think it's a really bad strategy for Bernie supporters to try to shut that down."
Sanders, to his credit, has made an effort to incorporate minority issues into his stump speech since launching his campaign. During his rally in Dallas on Sunday, for instance, Sanders touched on the country's history of racism and said the names of some of the black Americans who have died in police custody. 
"When we look at names like Sandra Bland and Freddie Gray, we understand that what we want is a nation where a young black man or woman can walk down the street, not worried about being falsely arrested or beaten or killed," he said Sunday to loud cheers and chants. 
Before it's here, it's on the Bloomberg Terminal.
LEARN MORE