Craft Beer Boom Prompts States to Ease Laws in Bid for Revenue
Freeman Klopott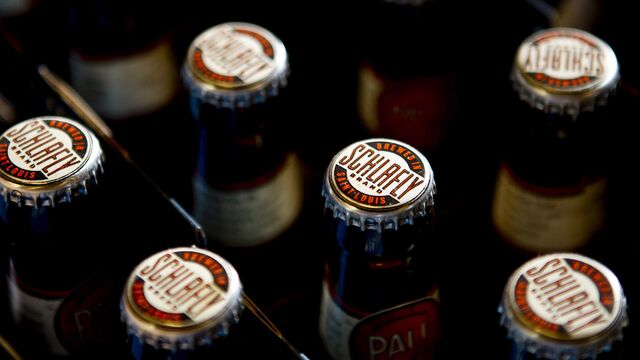 The U.S. craft beer business, the fastest-growing segment of a $102 billion market, is giving states an opportunity to capitalize on the nation's growing thirst for India pale ale and imperial oatmeal stout.
In Illinois, a bill sent to Governor Bruce Rauner last month would allow more breweries to sell directly to consumers. Florida Governor Rick Scott signed a law in May that lets customers fill 64-ounce growlers at taps. In New York, a tax credit pushed through by Governor Andrew Cuomo is giving cash back to small brewers to boost growth.
"It's a huge revenue driver, and it can't be overlooked," said Illinois state Representative Sara Feigenholtz, a Chicago Democrat, who sponsored the legislation awaiting Rauner's signature. "We just need to create a more fertile environment."
U.S. production at craft breweries, or those that make no more than 6 million barrels annually, rose by almost 18 percent last year, accounting for $19.6 billion in sales, according to the Boulder, Colorado-based Brewers Association. By contrast, national production grew by only 0.5 percent. In 2010, craft breweries collectively produced about 10 million barrels; by 2014, production had more than doubled to 22 million barrels.
In California, the boom generated $450 million from taxes on the craft industry in 2012, according to the California Craft Brewers Association. New York and its localities collected $748 million from levies on craft beer in 2013, an April report by Napa, California-based Stonebridge Research Group LLC said.
Crafty Acquisitions
The world's biggest brewer, Anheuser-Busch InBev NV, maker of Budweiser, has taken notice. Since 2011, AB InBev has snapped up four U.S. craft breweries, including Goose Island Beer Co. in Chicago and Blue Point Brewing Co. in Patchogue, New York.
The effort by some states to help craft brewers is pitting the small producers against wholesalers as new regulations threaten a distribution network developed after the end of Prohibition. The laws created a three-tiered system in which brewers sell to distributors, which in turn peddle to retailers, who pour for the public. It was meant to prevent big brewers from selling directly to pubs and restricting sales to their brands, which they did before Prohibition at so-called tied houses.
The system can both protect and hinder growth of craft beer makers, said Bart Watson, chief economist for the Brewers Association, which represents more than 2,600 companies. The smallest brewers want to sell directly to bars and stores to build a large enough market share to attract a distributor. Once they have a distributor, they need the protections that the three-tier system provides against the beer giants, he said.
"States are recognizing the need to update and modernize their laws," Watson said. "These aren't the old days where we had tied houses."
All 50 states and the District of Columbia now have statutes that allow tasting samples, and at least 35 states and Washington let breweries, small brewers or brewpubs sell to customers who can take the beer off premise, according to the National Conference of State Legislatures.
To help the craft business, New York awards brewers who annually produce 60 million or fewer gallons -- about 1.9 million barrels -- a credit for at least a portion of their beer-production taxes, under a law Cuomo signed in 2012.
Southern Culture
The fight between brewers and distributors has been waged most intensely in the South, where distributors want to keep the existing system. They often are backed by religious conservatives who oppose increased alcohol consumption.
Repeated efforts in Alabama to allow craft brewers to sell takeaway beer have failed. In Georgia, a bill that would've allowed brewers to sell directly to consumers was changed to only allow breweries to provide a beer "souvenir" after charging for a tour. Governor Nathan Deal signed it in May. Florida began allowing the 64-ounce take-home growlers July 1.
North Carolina has loosened its regulations by the most in the region, starting in 2005 with a law that raised the cap on alcohol content to 15 percent from 6 percent. The shift, opposed by wholesalers who saw it as a threat to their sale of fortified wines, made it possible for production of India pale ale, the fastest-growing beer style in the U.S. Since then, more breweries have been allowed to pour on site, though they still can't self-distribute after they produce more than 25,000 barrels annually.
The changes already have made North Carolina the "undisputed leader in craft beer from Virginia to Texas," said Tim Kent, executive director of the North Carolina Beer & Wine Wholesalers Association.
Being the leader in the South isn't enough, said Margo Knight Metzger, the executive director of the North Carolina Brewers Guild. To match states like California and New York, among the fastest-growing craft markets in the U.S., North Carolina needs to lift the 25,000-barrel cap, she said.
California, home to Sierra Nevada Brewing Co. and Lagunitas Brewing Co., and New York, where the Matt Brewing Co. makes Saranac, allow brewers of all sizes to sell directly to customers. In both states, the craft industry and wholesalers have found a way to get along, officials said. In Illinois, the two sides wrote the bill that was passed in June.
In North Carolina, the culture clash between alcohol producers and religious groups is abating, at least in some areas, said Chuck McGrady, a Republican state representative from Hendersonville. McGrady has been pushing for changes that would make it easier for craft brewers to sell directly to drinkers.
"I pinch myself periodically," McGrady said. "They're selling beer and wine and hard cider in a way I never expected to see them sold, and they're viewed as family-friendly, good for the economy and just another group of small business people."
Before it's here, it's on the Bloomberg Terminal.
LEARN MORE