At Launch Rally, Hillary Clinton to Tell Americans 'It Is Your Time'
The Democratic frontrunner will argue that her Republican rivals have views that are out of step with the times.
by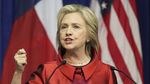 Hillary Clinton has spent the past two months reintroducing herself to voters with carefully controlled campaign stops and minimal interaction with the media.
On Saturday, she'll initiate the next phase of her presidential candidacy with her first campaign rally, where she'll discuss oft-omitted pieces of her personal story and tell the country why she's best suited to be the next occupant of the Oval Office. She'll discuss what motivates her, who she is fighting for, her vision for the country and what the choices are for voters in the 2016 election, Clinton officials said Thursday.
The rally, slated for late morning at Four Freedoms Park on New York's Roosevelt Island—a tribute to Franklin Delano Roosevelt and, to a lesser extent, Eleanor Roosevelt—won't be heavy on policy details, but it will kick off a summer that will be full of economic proposals, including Clinton's views on the minimum wage, Wall Street regulation and student debt.
Clinton's economic positions will be progressive without leaning as far left those of Vermont Senator Bernie Sanders, a self-identified socialist who in many polls is running a distant second to her for the Democratic presidential nomination. And they'll draw on the principle of fairness that drove FDR's presidency.
"It is your time," she will tell the people who her campaign has chosen to call everyday Americans, arguing that America's success is measured not by how those at the top are doing but how the rest of the country is doing. Prosperity is for every American, she will say, not just for CEOs and hedge fund managers.
Clinton will also argue that the election will leave voters with a clear choice between what her aides see as Republicans' top-down economic policies and out-of-date social view, and her own views, which they say hinge on fairness and justice for all.
Clinton shied away from her personal story throughout her 2008 campaign but has chosen, this time, to use her own experiences from long before she stepped foot in the White House or the State Department. It's a way to connect with voters whose biographical knowledge of Clinton is limited to her years as first lady and secretary of state, and doesn't trace back to her middle class beginnings in the Chicago suburbs or the roots of her indomitable spirit.
Clinton's life story from her parents' influence onward, her supporters argue, is critical to convincing voters that she is the right person to lead the country.
"She is a well-known figure but when you're asking the American people to support you as president, even if it is for the second time, there is no skipping of steps," Clinton communications director Jennifer Palmieri said.
The first two months of Clinton's campaign started laying the groundwork for her reintroduction to the American people and the methodical campaign that she and her team have planned for the next 17 months.
"Voters are seeing her not as secretary of state, not as first lady, not as Bill Clinton's wife, not as a surrogate for President Obama but as Hillary Clinton, the 2016 candidate who is looking for their vote and their confidence to be their next commander-in-chief," said Democratic strategist Maria Cardona, who advised Clinton's first presidential campaign.
During the first phase of her campaign, Clinton was "putting one foot in front of the next very methodically," said Bill Galston, a domestic policy adviser in Bill Clinton's White House. "She is not trying to force herself to be someone she's not. She's not Barack Obama. She's not her husband."
Clinton's close ties to the last two Democratic presidents can make it difficult to differentiate her from them, but she's widely seen as more disciplined than her husband and more interested in engaging in politics than the current president. Clinton has suggested on the campaign trail that she could do better than Obama at working with Republicans and Democrats in Congress and, Galston said, "she has some skills that [Obama] lacks and those skills in these polarized times are pretty damn important."
Much of Clinton's focus on Saturday and as she travels next week to Iowa, New Hampshire, South Carolina and Nevada, will be on one important figure in the candidate's life: her mother, Dorothy Rodham, who suffered multiple rounds of "trauma and abandonment" as a child, as Clinton wrote in her 2014 memoir Hard Choices, but experienced enough acts of kindness to persist through the hardships she faced.
"Mom measured her own life by how much she was able to help us and serve others," Clinton wrote, and Rodham taught her daughter: "Never rest on your laurels. Never quit. Never stop working to make the world a better place. That's our unfinished business."
From her mother's example, Clinton learned that every child needs someone fighting for him or her—a belief that has pulled her through her career, beginning with her work as a young lawyer for the Children's Defense Fund.
"If you want to understand Hillary Clinton, and what has motivated her career of fighting for kids and families, her mother is a big part of the story," Palmieri said. "The example she learned from her mother's story is critical to knowing what motivated Hillary Clinton to first get involved in public service, and why people can count on her to fight for them and their families now."
The shift to a focus on Clinton's personal story—which will also include the campaign's release of a biographical video about Clinton in the coming days—comes after an initial active avoidance of focusing too much on the larger-than-life candidate.
"One thing that struck me from the start as exactly right was to have this election not be about her but about everyday Americans," said Geoff Garin, Clinton's 2008 pollster. "She's begun to lay an important foundation on which to build the next phase of her campaign."
Americans, he added, "want their elected officials to be in touch with them and to have a personal understanding of what they're going through. She's demonstrated a commitment to doing that and I think she'll be a better candidate as a result of it."
Before it's here, it's on the Bloomberg Terminal.
LEARN MORE