Bill Clinton Cracks Jokes About Marijuana, and Himself
Pot gaffes, dicey e-mails, and paid speeches are all fair game as the former president entertains his guests at CGI.
by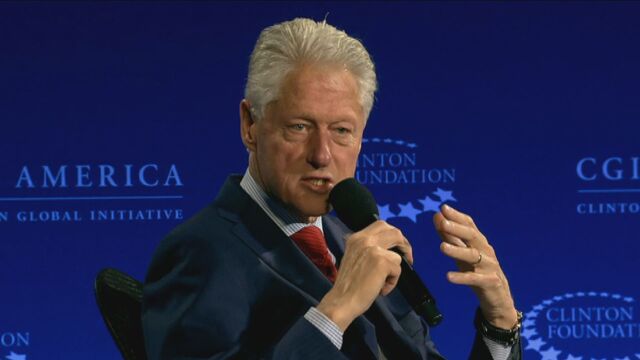 Former President Bill Clinton, who still insists that he never inhaled, found himself in the middle of an irresistible pot joke Wednesday.
Speaking Wednesday at the Clinton Global Initiative America conference in Denver, Agriculture Secretary Tom Vilsack said he recently learned about a Wisconsin crop that generated $1 million per acre. This, Vilsack noted, is a remarkable amount of money "with the exception of the state of Colorado, and a few other states that have legalized another product," a reference to legalized marijuana.
Clinton, sharing the stage with Vilsack, didn't miss a beat. "Dear Lord, that's all I need–one more story," he said.
He then linked the issue to the recent coverage about his and his wife's paid speeches, both on behalf of themselves and the Clinton Foundation. "If only the marijuana growers would invite me to give a speech," he said, laughing.
Later in the session, Clinton was talking about Native American reservations and buying gifts from a reservation online when he suggested this was one of the few times he has communicated electronically.
Then came another laugh line, one that resonates given the controversy over Hillary Clinton's use of a private e-mail server while secretary of state. "People said embarrassing things on e-mail, and I didn't want to be one of them," he said.
In March, a Bill Clinton spokesman said the former president had only ever sent two e-mails, neither to his wife's private address. It was unclear what Hillary Clinton had meant when she said during a news conference about her e-mail that her "server contains personal communications from my husband and me."
Before it's here, it's on the Bloomberg Terminal.
LEARN MORE