Rand Paul Reacts to Death of Kalief Browder
The young black man, who committed suicide on Saturday, had been a mainstay in the senator's speeches to conservatives about criminal-justice issues.
by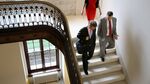 When Kentucky Senator Rand Paul talks to conservative audiences about overhauling the criminal-justice system, he refers to a few deeply reported stories from the mainstream press. Sometimes, he'll praise the Washington Post's series on civil asset forfeiture. Often, he'll encourage his audience—typically Republican, mostly white—to read Jennifer Gonnerman's 2014 New Yorker profile of Kalief Browder, a young black man in New York who spent three years on Rikers Island, as a teenager, while waiting for a trial.
"We should have speedy trials in our country," Paul told the crowd at this year's Conservative Political Action Conference. "Kalief Browder was a 16-year-old boy accused of a crime. He's from the Bronx. He's an African-American kid from the Bronx. Accused of a crime, he was sent to Rikers. He spent three years in Rikers. He was never tried. He tried to commit suicide four times. If you ask Kalief Browder and you ask his mom or you ask anybody that lives around him in the Bronx whether or not the Bill of Rights is being defended—he lives in that other America that Martin Luther King talked about. If we want to get—if we want to get new people into our party and get libertarians and others who believe in privacy, what we have to do is we have say to people like Kalief Browder that big government's not only a problem as far as regulations and taxes, big government's a problem with sometimes not giving justice to those who deserve it."
Audiences in the first four primary states have all heard some version of that story. They will hear a different ending to it now: On Saturday, one of Browder's suicide attempts finally succeeded; the New Yorker published the news as a follow-up to its profile.
Paul reacted quickly on Facebook. "Kelley and I extend our most heartfelt sorrow and deepest condolences to the family of Kalief Browder," he wrote. "May his soul rest in peace."
On Tuesday, Paul will speak to the Baltimore County Republican Party, a short drive into the city's suburbs. He has talked about Browder's story in much less obvious settings; just a week ago, he told an audience in deep-red Rock Hill, South Carolina, that Republicans would only win again when they advocated for people like Browder. 
Separately, over the weekend, the New York Times's Maggie Haberman and Jonathan Martin published a look at red-state Democrats whose voters went for Bill Clinton, and now worried that Hillary Clinton was driving narrowly to the left. "By emphatically staking out liberal positions on gay rights, immigration, criminal justice, voting rights and pay equity for women," they wrote, "Mrs. Clinton is showing core Democratic constituencies that she intends to give them a reason to support her." But Paul's tributes to Browder, like Nebraska's recent abolition of the death penalty, indicated that the failures of "criminal justice" concern people well outside of the Democratic base.
Before it's here, it's on the Bloomberg Terminal.
LEARN MORE