Scott Walker Compares Daily Life in Israel to Sept. 11 Aftermath in America
The likely Republican presidential candidate makes his first public remarks about his recent trip to the Middle East nation.
by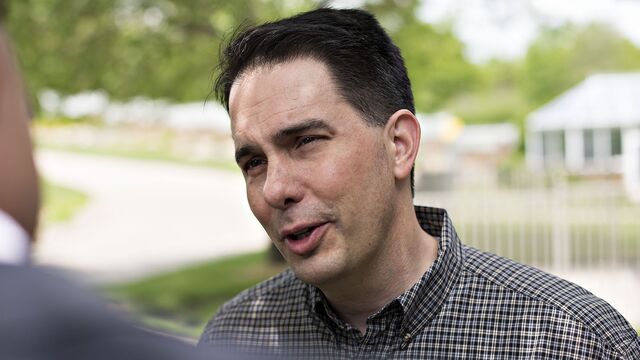 Likely Republican presidential candidate Scott Walker on Saturday compared the feelings Americans had after the Sept. 11 terrorist attacks with those Israelis experience in daily life.
"Remember for a moment how many of us—the young people don't remember this probably so well—but those of us as adults remember what we felt like on the day after Sept. 11," the Wisconsin governor said in his first public remarks about his recent trip to the Middle East nation, which he had never visited before. "That's how they feel almost every day. That's what they feel like because of what they're dealing with."
Walker's comments came during an appearance in West Des Moines, Iowa; he and other White House contenders are circling the state this weekend ahead of a state party dinner Saturday in Des Moines.
He outlined the sites and proximity to war he'd seen on the nearly week-long trip, from which he returned Thursday. A day-long helicopter ride with a retired Israeli army general was "probably the most impactful" part of the trip, he said.
"It just gave me an incredible perspective: you could see their enemies," Walker told about 100 people gathered at a private lodge.
He also met with Prime Minister Benjamin Netanyahu and other officials as he continued to try to boost his foreign policy credentials.
Later speaking to reporters, Walker said he'd be announcing his "intention as to whether I'm a candidate for president or not" shortly after the Wisconsin legislature completes a two-year budget plan, likely in late June.
Walker declined to say whether he would participate in the Iowa Straw Poll in August if he does become a candidate. "We can't make determinations until we've made that announcement one way or the other," he said.
A spokesman for former Florida Governor Jeb Bush, another likely candidate, said Tuesday he would skip the carnival-like event, which serves as a party fundraiser and has in some election cycles helped winnow the field. That decision was sharply criticized by Republican Party of Iowa Chairman Jeff Kaufmann.
Asked if Bush made a mistake in not participating, Walker declined to level criticism. 
"I'll leave that up to him and the folks here in Iowa to decide," he said. "I just think it is important to be here, so we'll be here a lot."
Before it's here, it's on the Bloomberg Terminal.
LEARN MORE