Obama, Unfiltered
The president promised us months ago things were going to get "interesting" this year. Lately, he's been talking like he means it.
by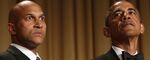 "With the Patriots in town, I was worried that 11 out of 12 of them would fall flat."
 "They're just wrong."
 "They're like, 'I don't want to work, I just want a free Obama phone.'"
Of late, the president doesn't sound like pedantic Barack Obama, the constitutional law professor, or cautious Barack Obama, who's holding back because he doesn't want to alienate his base or foreclose his options for that elusive bipartisan moment, or Barack Obama whose "no drama" persona has earned him an "anger translator" to vent his "true" feelings.
In place of the disciplined, even-keeled commander-in-chief of his first six years in office, we now have what you might call Obama Unfiltered.
Obama previewed the change late last year, after Democrats lost control of the Senate in the midterm elections. "My presidency is entering the fourth quarter; interesting stuff happens in the fourth quarter," he said last December. "And I'm looking forward to it." He pulled the trigger on a series of executive moves: deferring deportations of some undocumented immigrants, reaching a climate agreement with China and reopening relations with Cuba. Arguably, actions speak louder than words. But words have a way of getting attention. And Obama has been talking differently over the course of the last few weeks.

"Just wrong"
Visiting Nike headquarters on May 8 in Oregon, to promote fast-track negotiating authority and the Trans-Pacific Partnership agreement, Obama defended his trade stance, saying, "I've run my last election, and the only reason I do something is because I think it's good for American workers and the American people and the American economy." Then, uncharacteristically, he went on to say of fellow Democrats opposing him, "I actually think some of my dearest friends are wrong. They're just wrong."
Obama has directly gone after one of the leading Democratic opponents of his trade push, Senator Elizabeth Warren of Massachusetts, a darling of the base who had helped stand up Obama's Consumer Financial Protection Bureau. In an interview with Yahoo recorded during that Nike visit, Obama said that while he and Warren deeply agree on most things, she is "absolutely wrong" on trade and that "her arguments don't stand the test of fact and scrutiny." Although he said at a press conference this week that their disagreement "has never been personal." Obama also suggested that Warren, who's been floated as a presidential candidate while ruling out a 2016 run, had an ulterior motive. "The truth of the matter is that Elizabeth is, you know, a politician like everybody else," he said. "And I understand that." 
"No apologies"
Obama also didn't mince words at a May 12 Georgetown University panel discussion on poverty. While the president has long prided himself on being able to speak poignantly and from a unique perspective on issues involving race in America, and has pursued programs to promote racial justice, he's faced criticism from within the black community all the way from early in his time in office through the law enforcement abuses last year in Ferguson, Missouri, for holding back too much with his words. 
At Georgetown, he didn't. He said that at a historically black college such as Morehouse, "I will have a conversation with young black men about taking responsibility as fathers that I probably will not have with the women of Barnard.  And I make no apologies for that.  And the reason is, is because I am a black man who grew up without a father and I know the cost that I paid for that." He said that "I tried to understand what it is that my father had gone through, and how issues that were very specific to him created his difficulties in his relationships and his children so that I might be able to forgive him, and that I might then be able to come to terms with that."
Obama also returned to an occasional conservative punching bag of his—Fox News—albeit with more gusto than usual. "I think the effort to suggest that the poor are sponges, leeches, don't want to work, are lazy, are undeserving, got traction," he said. "And, look, it's still being propagated.  I mean, I have to say that if you watch Fox News on a regular basis, it is a constant menu. They will find folks who make me mad. I don't know where they find them. They're like, 'I don't want to work, I just want a free Obama phone' or whatever. And that becomes an entire narrative, right, that gets worked up. And very rarely do you hear an interview of a waitress, which is much more typical, who's raising a couple of kids and is doing everything right but still can't pay the bills."

First Lady Michelle Obama, in turn, gave one of her most personal and pointed speeches on her experience as a black woman, at her May 9 commencement address to Tuskegee University in Alabama. She recalled how during her husband's 2008 campaign she faced questions she saw connected to her race and "the fears and misperceptions of others: Was I too loud, or too angry, or too emasculating?" The satirical New Yorker magazine cover with her wearing an afro and machine gun "knocked me back a bit" as did the description of the Obamas' fist bump as a terrorist fist-jab and descriptions of her as "uppity" or "Obama's Baby Mama." She said he had to "block everything out and focus on my truth." 
Brady-gate
As for the president, Obama Unfiltered isn't confining himself to race and trade. Consider his remarks on April 23, when the New England Patriots came to the White House, minus Tom Brady, for the traditional honoring of each year's Super Bowl champions. A  big sports fan who's keenly aware of players' influence on children, he addressed the "Deflategate" controversy with a laugh but also an edge as he stood with the team. "I usually tell a bunch of jokes at these events, but with the Patriots in town, I was worried that 11 out of 12 of them would fall flat," Obama said. He added backhandedly that the "whole story got blown a little out of proportion."
Who's to say he wouldn't have done the same had he been facing re-election? But these days, he has nothing to lose if he rubs Massachusetts donors or New Hampshire primary voters wrong. Obama hasn't yet reacted publicly to the NFL's subsequent decision to fine the team $1 million, withhold two draft picks and suspend Brady. 
Before it's here, it's on the Bloomberg Terminal.
LEARN MORE