The Incredible, Bipartisan, Kumbaya Moment for Criminal Justice Reform
But are Democratic and Republican 2016 hopefuls actually in the same key?
by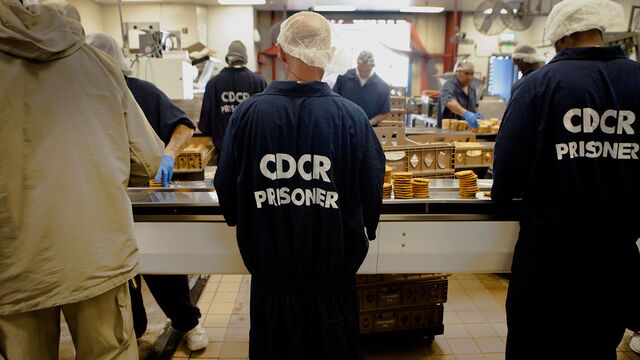 When George W. Bush was governor of Texas, the state built 38 new prisons, and the state's annual corrections expenditure jumped jumped by $1 billion to $2.4 billion, a 71 percent increase. That's what it was to be tough on crime. No one would ever describe Bush's successor, Rick Perry, as a softie or a liberal, but in his 15 years as governor, Perry became a prison reformer: signing laws to benefit juvenile offenders, approving new standards for forensic crime labs, and increasing compensation for exonerated prisoners. At a Conservative Political Action Conference panel in March 2014, Perry criticized tough sentencing guidelines and praised drug courts that help steer addicts clear of prison. "You want to talk about real conservative governance?" he said. "Shut prisons down. Save that money."
Perry is one of 23 contributors to a book just published by the Brennan Center for Justice at New York University's School of Law. It is a surprising sort of kumbaya moment as the 2016 campaign gets underway, a rickety bridge across America's partisan chasm. Solutions: American Leaders Speak Out on Criminal Justice Reform includes essays from a wide range of congressional representatives and public figures, Republicans like Wisconsin Governor Scott Walker, Florida Senator Marco Rubio, Kentucky Senator Rand Paul, Texas Senator Ted Cruz—and Democrats like former Secretary of State Hillary Clinton, Vice President Joe Biden, New Jersey Senator Cory Booker, and former Maryland Governor Martin O'Malley. Perry calls for other states to "follow the successful example of Texas [to] eliminate our incarceration epidemic"—he, as well as Walker, New Jersey Governor Chris Christie, and former Virginia Senator Jim Webb seek to expand drug treatment as an alternative to prison. Paul, Cruz, and Clinton want to ease mandatory minimum sentencing. Former Arkansas Governor Mike Huckabee wishes to treat drug addicts, eliminate financial waste, and "address character."
This is quite something to witness.
And more than any individual chapter in Solutions, it is the foreword written by Bill Clinton that most powerfully depicts the momentum of change. In his first presidential term, Clinton signed into law an omnibus crime bill with a three-strikes sentence. (Hillary Clinton, now the presumptive Democratic nominee, as first lady advocated these "tough measures.") President Clinton puts it delicately and a little defensively here—"By 1994, violent crime had tripled in 30 years. Our communities were under assault"—of course mindful of his legacy. But he does not absolve himself. "It's time to take a clear-eyed look at what worked, what didn't, and what produced unintended, long-lasting consequences," he writes. "Too many laws were overly broad instead of appropriately tailored… Some are in prison who shouldn't be, others are in for too long, and without a plan to educate, train, and reintegrate them into our communities, we all suffer."
In an interview Wednesday with Christiane Amanpour, the 42nd president again took a measure of responsibility for over-incarceration. "We cast too wide a net and we had too many people in prison," he said.
Also last week, Rick Santorum—a Republican about as politically distant from Clinton as can be—made a parallel remark. Speaking to Bloomberg's David Weigel in South Carolina, Santorum said, "We have to look at the huge rates of incarceration and the ability of a person to be successful in society. We have to take a step back and see if there's a better approach with a lot of these non-violent drug crimes."
Criminal-justice reform now seems to be a thoroughly bipartisan issue. Last summer, Paul joined with Booker to introduce a bill to make it easier for nonviolent criminals to get jobs after prison. In September, Senator Dick Durbin, Democrat of Illinois, and Senator Mike Lee, Republican of Utah, proposed a sentencing-reform bill that would reduce mandatory minimum sentences for nonviolent drug offenses. "Making smart reforms to our drug sentencing laws will save the taxpayers billions of dollars," Lee said. That would be $4.36 billion, to be exact, according to the Congressional Budget Office. In February, Senator John Cornyn, a Texas Republican, and Senator Sheldon Whitehouse, a Rhode Island Democrat, introduced legislation that would help ex-convicts with their transition back to civilian life following prison: the Corrections Oversight, Recidivism Reduction, and Eliminating Costs for Taxpayers in Our National System (CORRECTIONS) Act. 
Also in February, Koch Industries—a massive private company owned by the conservative Koch Brothers—helped launch the nation's largest criminal-justice reform effort, in a partnership with the liberal Center for American Progress—whose president, Neera Tanden, served as policy director for Hillary Clinton's previous presidential campaign. Strange bedfellows, but these are days of harmony.
The Kochs have framed the push around fiscal conservatism. Policies that push down prison populations would save the government billions. Speaking recently at Columbia University, Hillary Clinton concurred. "The price of incarcerating a single inmate is often more than $30,000 per year—and up to $60,000 in some states. That's the salary of a teacher or police officer," she said.
Certainly the emphasis on cost-cutting helps in making this a bipartisan issue. But seeing criminal-justice reform as mainly a cost-cutting strategy has its problems. Elizabeth Stoker Bruenig of the New Republic has written about the GOP's prison reform plans, noting that a "2014 National Research Council report found that, in a number of states, the criminal justice system has become the main distributor of healthcare, drug abuse treatment, mental health services, job training and education for the most disadvantaged populations in America."
The trick now is putting plans forward that provide these services more effectively and efficiently to the prison population, even with today's focus on cost-cutting, and to guarantee that such resources are available to the general population. As Bill Clinton said to Amanpour this week, "We wound up...putting so many people in prison that there wasn't enough money left to educate them, train them for new jobs and increase the chances when they came out so they could live productive lives."
Peter Edelman, a Georgetown University law professor, worked in Bill Clinton's administration until he resigned in protest against the president's signing welfare-reform legislation. (His wife, Marian Wright Edelman, the president and founder of the Children's Defense Fund, employed Hillary Clinton when she was fresh out of law school.) In a phone interview, Edelman told me that, while he values the bipartisan push toward criminal-justice reform, the "devil is in the details." He pointed to the Republican push toward budget cuts. "It's quite inconsistent," he said, to push to reduce prison populations in the name of criminal justice, and to simultaneously "want to cut food stamps, and Medicaid." Talking about police misconduct and the need to overhaul the criminal-justice system is one thing, addressing the ongoing cycles of poverty another. 
Edelman grants, and appreciates, "a certain degree of bipartisan agreement around certainly aspects of what happens to ex-offenders." Reading Solutions, it's hard not to revel in the pleasing accord: presidential debates might have a soft spot after all. But of Republicans who are putting forward criminal-justice reforms, Edelman said, "Let's say, good, and let's hold their feet to the fire."
CORRECTION: An earlier version of this story misstated the month that a Conservative Political Action Conference panel featuring Rick Perry took place.
Before it's here, it's on the Bloomberg Terminal.
LEARN MORE