Ted Cruz: Anti-Gay Marriage Crusader? Not Always
The Texas senator passed up the chance to argue in a pivotal gay-rights case.
by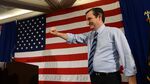 Senator Ted Cruz, who wants to be the Republican Party's lead crusader against gay marriage, ducked the opportunity to play a critical role in turning back the movement in its infancy.
In 2003, the year Cruz became Texas's top government litigator, the state lost a crucial case as the U.S. Supreme Court decided that state laws banning homosexual sex as illegal sodomy were unconstitutional. The decision in Lawrence v. Texas paved the way for the court's consideration of gay marriage. "The final victory for gay rights was foreshadowed when the court decided Lawrence v Texas," predicted Walter Dellinger, a former U.S. assistant attorney general and solicitor general who's argued numerous cases before the Supreme Court.
Justice Antonin Scalia wrote at the time that the ruling dismantles "a distinction to be made between heterosexual and homosexual unions, insofar as formal recognition in marriage is concerned."
Cruz is making the gay marriage debate the cornerstone of a bid to rally conservatives to his 2016 presidential bid, but same-sex issues haven't always been the top priority for a lawmaker who built his profile as a limited-government, Tea Party-aligned conservative.
As Texas solicitor general when the Lawrence v. Texas case came before the Supreme Court, Cruz was "very much in the middle of all this drama," said Mitchell Katine, who was local counsel to the two gay men at the center of the case, John Lawrence and Tyron Garner. The two had been dragged out of their bedroom by police and charged with "deviate sex."
Yet "Cruz remained absolutely silent," Katine said. The case remained assigned instead to a Harris County district attorney.
Through a spokesman, Cruz said he didn't step in because the case was criminal in nature and his office primarily handled civil cases. Yet six of the nine cases Cruz argued before the nation's highest court were criminal in nature. Cruz also was just beginning a new job, and his advisers say he wasn't in a position to take over. Cruz started the solicitor general's job Feb. 10, 2003 and the Texas brief was filed on Feb. 17. Yet Dellinger notes that the court argument wasn't until March 26, which gave "plenty of time to prepare."
"One would expect the state solicitor to argue a case of this magnitude," said Dellinger. 
Interviews with a dozen former fellow law students, professors, lawyers and government officials show that his lack of involvement in the Lawrence case is part of a broader narrative about the Texas senator's relationship with the gay community: While he has consistently opposed gay rights, he has often stayed away from the front lines of the fight and even courted gay donors.
Last weekend Cruz, 44, called on Americans to get on their knees in prayer that the court rules against same-sex marriage laws. Cruz told Iowans he's been a religious liberty advocate for decades, singling out his experience as Texas solicitor general from 2003 to 2008.
His pitch to Republican primary voters is that, unlike his competitors, he's also a principled fighter, even when the obstacles seem insurmountable. Cruz became a Tea Party sensation by championing opposition to government spending and spurring a 16-day federal shutdown in an unsuccessful bid to reverse Obamacare.
Religious conservative voters who care more about religious liberty and social issues are now the linchpin of Cruz's candidacy, and many of them believe the gay marriage debate is at a tipping point as the nation's moral fabric unravels.
But when the opportunity came to make that case to the nation's highest court, Cruz appears to have demurred. Bill Delmore, then chief of the Harris County appellate division, said the lead attorney had asked the attorney general--Cruz' boss--to take over the case as it headed to the Supreme Court. That request was rejected, although it's unclear whether it came before or after Cruz took officially started, Delmore said.
"You'd kind of think that would be a matter of sufficient statewide interest for the attorney general to be involved," he said. "I got stuck," said Delmore. "It just seemed that a lot of people didn't want that political hot potato."
Later, when a Beaumont state court granted a divorce to two homosexual men who had gotten a civil union in Vermont, Cruz, under the leadership of Attorney General Greg Abbott, intervened in defense of the marriage laws of the state of Texas, which successfully led to the court judgment being vacated, the Cruz spokesman said.
Cruz has consistently opposed gay rights and defended religious liberty laws, dating to his days as a Harvard University law student.
One of his professors, Laurence Tribe, had argued before the U.S. Supreme Court in favor of overturning a Georgia law deeming gay sex as illegal sodomy and lost. Tribe used the 1986 case as a discussion point in his class, encouraging students to voice their opinions on the ruling. Most, he said, "seemed to share the hope" that it would eventually be overruled. Cruz was a notable exception
"I can't truthfully say I recall any specific comment Ted made about why sexual intimacies in private between consenting adults should be subject to government regulation," Tribe said. "But that was quite clearly his view."
While Democrats accuse Cruz of being anti-gay, he has been friendly with gay donors.
Recently, as the New York Times first reported, Cruz attended a fundraising reception at a gay couple's home in in Manhattan. In his brief 2009 bid to be elected Texas attorney general, a large portion of the money Cruz collected came from donors with ties to the gay rights movement.
He accepted $250,000 from gay donor Peter Thiel, the co-founder of PayPal, who is also a top contributor to the national gay conservative group GOProud. Thiel also gave $2 million to Club for Growth, a super political action committee that put $705,657 toward Cruz's Senate run.
Paul Singer, a hedge fund billionaire whose son married his partner and who pushed for legalization of same-sex marriage in New York, gave Cruz $25,000 in 2009.
Cruz highlights two instances in which he worked as solicitor general to protect traditional marriage, including a letter to Congress with then-Texas Attorney General Greg Abbott in support of the Defense of Marriage Act, a U.S. law that defined marriage as a heterosexual union.
Also, Cruz has a long record of aggressive advocacy on religious liberty. Last weekend in Iowa he cited a case he won protecting a Texas Ten Commandments monument. His campaign also cites his defense of keeping the words "under God" in the Texas pledge of allegiance. While in the Senate, Cruz sponsored the State Marriage Defense Act, which sought to protect the 33 states that define marriage as a union between one man and one woman.
Yet, unlike a number of Texas legislators and public officials, Cruz was not a leader in opposing gay rights and marriage equality, said Glen Maxey, the first openly gay Texas legislator who founded the state's gay and lesbian rights lobby, now called Equality Texas, in 1985.
"I had never heard of Ted Cruz until he went for the Senate,'' said Maxey, who fought several bills in the state legislature regarding defense of traditional marriage.
Professor Robert George, Cruz's former jurisprudence instructor at Princeton University, didn't even realize his student was the Texas solicitor general when he filed a brief supporting the Lone Star State in the Lawrence v. Kansas case. George does not see his former student as an anti-gay-marriage crusader.
"He probably cares about the issue, he's probably in favor of traditional marriage but on the list of 50 major issues it's not in the top five,'' said George. Unlike most students, Cruz's conservatism was framed around issues relating to constitutional "structure'' and the "struggle to limit power and authority,'' he said.
One classmate recalled spirited exchanges at Gannett House, the Greek Revival-style building that's housed the Harvard's law review since the 1920's, over the Georgia sodomy law. Yet Cruz's argument was narrowly focused on states' rights, they said. Since the right to gay sex is not written in the Constitution, the argument goes, the court couldn't invalidate the Georgia law and those like it deeming gax sex as illegal sodomy.
"It was just a general conservative attitude on almost every issue,'' said Ted Ruger, dean at the University of Pennsylvania Law School who was law review president at the time. "I remember him being kind of like he didn't have an off switch. He was kind of debating all day every day. That was his mode of operating.''
After Harvard, while clerking at the Supreme Court, Cruz was active on issues including capital punishment and school choice, said a former fellow clerk.  
Cruz is now championing the gay marriage issue in Congress and on the campaign trail.
He filed two bills in the Senate last week, including one to create a constitutional amendment protecting states that bar same-sex marriage after campaign appearances in Iowa where he cast himself as the leading Republican opponent of same-sex marriage and accused the gay community of waging a "jihad'' against religious freedom laws.
In his first stop in Iowa after declaring his candidacy, Cruz attacked critics of the law, saying "marriage is a holy sacrament, the union of one man and one woman and ordained as a covenant by God.''
Russell Moore, president of the Ethics and Religious Liberty Commission, said Cruz faces obstacles to winning the evangelical support over candidates including Marco Rubio and Jeb Bush of Florida.
"Religious conservatives are looking for candidates who are not going to just play to identity politics but who can articulate a vision of religious freedom and can demonstrate that they can get things done,'' Moore said.
"It's not enough for a candidate who just parrots slogans about religious freedom,'' he said. 'The problem for Cruz is going to be explaining how he can lead people who disagree with him."
—Greg Stohr contributed to this article. 
Before it's here, it's on the Bloomberg Terminal.
LEARN MORE