Millennials Favor Hillary Clinton in Harvard Poll
Meanwhile, no Republican contender captured more than 10 percent among that party's likely or potential youth primary voters.
by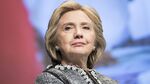 America's young adults, who twice helped propel President Barack Obama to victory at the ballot box, are lining up to support Hillary Clinton in 2016.
A survey by Harvard University's Institute of Politics shows that 55 percent of all young adults, ages 18 to 29, would rather see a Democrat maintain control of the White House after the next presidential election.
Clinton, 67, is likely to be among the oldest candidates in the race from either political party. Still, she's overwhelmingly favored among young adults who identified themselves as likely or potential Democratic primary voters, with 47 percent saying they plan to back the former secretary of state.
Senator Elizabeth Warren of Massachusetts, who has repeatedly said she has no intention of running, was picked by 11 percent. Vice President Joe Biden was selected by 8 percent.
"She seems to have coalesced a broad range of support among young Democratic primary and caucus voters, which stands in marked contrast to the position she was in eight years ago at this time, when she was trailing Barack Obama by double digits on college campuses," said John Della Volpe, the institute's polling director.

No prospective Republican candidate captured more than 10 percent support among that party's likely or potential youth primary voters. More than a third said they are undecided.
Della Volpe said he anticipated that Senator Rand Paul of Kentucky might have a narrow advantage among Republicans because he's spent a lot of time talking on college campuses, discussed cell-phone privacy and raised his profile on social media. "That is certainly not the case at this point in the campaign," he said. "That hasn't translated on a national level."
The Harvard survey also found that political party affiliation plays a role in social network preferences. A larger proportion of Democrats use Twitter, Instagram, and Tumblr than Republicans, while young GOPers are found in larger proportions than Democrats on Facebook and Pinterest.

As Baltimore continues to deal with violent protests over the death of a black man who suffered injuries in police custody, the poll shows nearly half of young adults lack confidence that the nation's justice system is able to fairly judge people without bias for race or ethnicity.
Young whites were more confident in the justice system's fairness, with 55 percent having some or a lot of confidence in police and courts to judge fairly without bias. For Hispanics and blacks that number falls significantly, to 44 percent and 31 percent. Republicans are more confident in the system's fairness (66 percent) than Democrats (46 percent).

On foreign policy, the poll found a solid majority of young adults favor sending ground troops to defeat the Islamic State, with 57 percent saying they either somewhat or strongly backed such an action.
Over the past year, the survey has found support has grown by 10 percentage points, to 35 percent, for the U.S. to "take the lead in solving international crises and conflicts." On a related question, support has grown by 7 percentage points, to 23 percent, for the statement "it is sometimes necessary to attack potentially hostile countries, rather than waiting until we are attacked to respond."

Among the youth population, Obama's approval rating has trended higher since before November's election, as is the case with the general public. The survey found 50 percent approval for Obama, his highest standing in the Harvard poll since April 2013, when he recorded 52 percent. The president's job approval increased across all major subgroups, including among young Hispanics, where his standing has risen 16 percentage points since October. Obama's improved numbers among young Hispanics coincides with his executive action to shield some undocumented immigrants from deportation.
The survey of 3,034 Americans ages 18 to 29 was taken March 18-April 1. It has a margin of error of plus or minus 2.4 percentage points on the full sample.
Before it's here, it's on the Bloomberg Terminal.
LEARN MORE