Mike Huckabee Drops Another Hint About His Presidential Plans
The former Iowa caucus winner will head back to the state after announcing his presidential intentions.
by and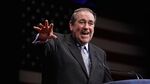 Remember when Mike Huckabee announced that he would be announcing his plans for the presidential campaign on May 5? If that wasn't enough of a hint that the former Arkansas governor is set to hop into the race for the White House, his latest move all but dashes what little suspense remained. 
Huckabee's as-yet-unofficial campaign sent out a press release Tuesday evening announcing that he will be launching a "factories, farms and freedom" tour following "his formal announcement about entering the 2016 presidential campaign." The conspicuously-timed two-day trip will take the alliterative Huckabee (see also: God, Guns, Grits and Gravy) to four communities in Iowa, where the first ballots of next year's race for the White House will be cast. 
To be sure, there are no shortage of indicators that Huckabee will join the growing Republican presidential field next week. The 59-year-old Baptist pastor-turned-cable-news-star formed a presidential exploratory committee in early April. He's quit his television and radio gigs. He's hired staff to make sure he hits the ground running. Still, senior communications adviser Hogan Gidley would say only that reporters should come to Hope, Arkansas, to find out for sure.
In Iowa, Huckabee attracted the state's powerful evangelical constituency in 2008 and became the surprise winner of the Republican caucuses. But his campaign lacked the funding and infrastructure to capitalize on the momentum elsewhere.
Next week's Iowa swing will begin on Wednesday, one day after Huckabee announces his presidential intentions in Hope, a hometown he shares with former President Bill Clinton. 
Before it's here, it's on the Bloomberg Terminal.
LEARN MORE