The Evolution of Marco Rubio's Education Policy and Common Core
The Republican presidential candidate favors a states' rights approach on education.
by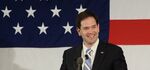 MANCHESTER, N.H.—Standing inside a crowded classroom at Manchester Community College for his first public event as a Republican presidential candidate, Marco Rubio is making it clear that education will be one of the centerpieces of his unfolding campaign. 
"The job that 10 or 15 years ago allowed you to own a home and send your kids to college today leaves you one broken car away from disaster," Rubio said on Friday, putting the blame on "20th century policies" in Washington. "I'm running into students who graduate from college with a mountain of student loan debt, and degrees that didn't lead to jobs."
But while Rubio made the case for a better-trained American workforce to help spark growth, he also hardened his opposition to a set of K-12 curriculum standards aimed at preparing children for careers and college.
That seeming disconnect has followed Rubio since he started honing his education policy as a state lawmaker in Florida. He won his first state legislative race by emphasizing more early childhood education, then presided over a record $2.3 billion budget cut to schools as House speaker.
As the Florida House speaker, he called for higher curriculum standards in local schools. And while his plan left the details to the state Department of Education to hash out, he also backed a bill that would have required teachers to question evolution.
Rubio maintains that position today.
"If you want to give them a truly rounded education you should explain to them that there's a theistic creationism that exists, a theistic evolution that exists out there," Rubio told reporters after touring the college in New Hampshire's most populated city. "The Catholic Church has adopted that position. It teaches that science and faith are not incompatible."
Also on Bloomberg Politics: The Definitive Marco Rubio Scouting Report, by Mark Halperin and John Heilemann
Rubio's views on public school curricula take on a heightened import as he becomes a leading critic of Common Core. The state standards are backed by companies including Microsoft and Boeing Co., and Rubio's friend (and likely presidential rival) former Florida Governor Jeb Bush. But the standards have become a lighting rod for many Republican primary voters.
Common Core is aimed at improving the more than 40 percent of students "lacking adequate college preparation and occupational training," according to a 2011 report from University of Arizona and Johns Hopkins University researchers. But parental disapproval ranges from those who uncomfortable with different teaching techniques now being used, to others who are frightened that the standards are the first step toward turning the Department of Education into a national school board. 
That's a fear shared by Rubio, despite assurances to the contrary by those involved in creating and adopting the standards, as well as challenges from fact-checkers.
"I don't care what anybody tells you," Rubio told hundreds of Republicans on Friday in Nashua, making his cleanest hit yet on Common Core. "Those standards will eventually be used to force on states policies the federal government wants."
For states to qualify for federal grants from the Race to the Top program, they must have standards that prepare students for work or college. Those curriculum standards don't have to be Common Core, but that's been the choice for 43 states that have adopted them. 
Still, the standards are poised to be a major issue in the presidential campaign. Rubio has been opposed to the Department of Education's interest in upgrading curriculum standards since 2011, but he was asked about his position at each of the three public events in participated on Friday in New Hampshire, where some in the audience seemed to agree with him. 
"We're just training worker bees," said Ann Marie Banfield, a New Hampshire mother to two college students and one in high school. "It has nothing to do with learning."
Banfield, who asked Rubio about Common Core at a house party hosted by Jay and Jenna Pedone on Friday, said she's trying to ask every Republican presidential candidate about the issue. She said New Hampshire Governor Maggie Hassan isn't stopping the standards from spreading and hopes the next president will.
"That would be huge," she said.
Rubio, who said he'd consider eliminating the Department of Education as president, signaled that he'd like to be the one to do that.
"I believe in having a 21st century curriculum, but I believe it should be done at the local and state level," Rubio said at the college. "And if you create some sort of national standard, even as a suggestion, it will turn into a mandate the federal government will force on our students and our local school boards and you're going to end up with a national school board." 
Before it's here, it's on the Bloomberg Terminal.
LEARN MORE