Jeb Bush: Obama Cares More About Legacy Than Strong Deals for the U.S.
The former Florida governor isn't a fan of the deal with Cuba or Iran.
by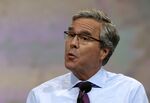 CONCORD, N.H.—Former Florida Governor Jeb Bush took aim at current President Barack Obama on Thursday, saying the two-term Democrat has put his own legacy ahead of securing strong international pacts on behalf of the country.
"This president wants to get deals for his legacy, whether it's Iran or Cuba," Bush told about 100 Republicans on Thursday at the Snow Shoe Club in Concord, New Hampshire. "He's negotiating without getting any concessions in return."
Bush criticized the deal Obama struck with Cuba to normalize relations, saying "we're basically going to perpetuate the regime" while "we get nothing." Bush said Obama instead should have forced regime change in the communist country, or required open elections.
Bush said Obama was banking on a miracle in Cuba, "similar to Ayatollah in Iran."
"This was not about proper negotiations," Bush said. "This was about a legacy."
Obama has defended both deals. He has said that sanctions on Cuba have not worked, and normalizing relations will create new opportunities for both countries. The president says the preliminary agreement with Iran is a "once in a lifetime opportunity" to keep Iran from getting a nuclear weapon. 
Obama has become a top target for Bush as he campaigns around the country ahead of his expected presidential announcement in the coming months. 
Bush and other Republicans who are either presidential candidates or expected to soon join the race will meet with Republican voters on Friday in Nashua, New Hampshire for the "First in the Nation Republican Leadership Summit." The event's name refers to the state's status of holding the first presidential primary every four years.
Before it's here, it's on the Bloomberg Terminal.
LEARN MORE