Martin O'Malley Welcomes Hillary Clinton to 'the Right Positions' on Marriage and Immigration
Out-flanking Clinton to the left is tough when she moves.
by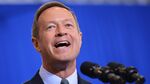 Former Maryland Governor Martin O'Malley has made it clear: He will not beat Hillary Clinton with personal attacks. He will, instead, run up her left flank, taking positions on banking and immigration that she might be too cautious to fully embrace.
The first week of Clinton's official campaign complicated the strategy somewhat. In Iowa, she came out for campaign finance reform via constitutional amendment, bank reform, gay marriage, and—via a spokesman, talking to reporter Elise Foley—for drivers' licenses to undocumented immigrants. Clinton's 2007 opposition to that latter idea did damage to her last presidential campaign, when opponents took her apart for seemingly approving of whatever position was least politically fraught.
And now she'd changed. Before* a speech at Harvard University today, O'Malley was asked to react to Clinton's new marriage and immigration liberalism.
"I'm glad Secretary Clinton's come around to the right positions on these issues," said O'Malley, praising his home state of Maryland for its relatively early legislative approval of gay marriage. (Audio of the remarks was provided after the speech by a campaign aide.) "I believe that we are best as a party when we lead with our principles and not according to the polls. And every election is about the future. And leadership is about making the right decision, and the best decision before sometimes it becomes entirely popular."
Pressed again, on whether he thought Clinton had merely responded to polls, O'Malley applied faint praise with a trowel.
"Let me say that I'm glad Secretary Clinton has come around to the right positions on both of these issues," he insisted. "I believe marriage is a human right, not a state right. I'm glad she's come around to that position as well. I believe that we do our country a disservice when we make it harder for new American immigrants to abide by the rules of the road and obtain drivers licenses. And I'm glad she's come around to that position now, too."
*Corrected: O'Malley made the Clinton-specific remarks to reporters before the scheduled speech. He did not mention the only declared Democratic candidate's name in the speech.
Before it's here, it's on the Bloomberg Terminal.
LEARN MORE