Has the House Majority Leader Changed His Mind on Export-Import Bank?
Tennessee Rep. Stephen Fincher just insisted that Kevin McCarthy was not going to let the bank die after all.
by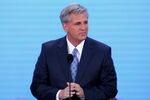 The glue had not even dried on his new office sign when House Majority Leader Kevin McCarthy delivered a major win for conservative and Tea Party groups. In a June interview with Fox News, McCarthy said that he would let the Export-Import Bank die. "It's going to take hard earned money so others do things that the private sector can do," he insisted. From the Club for Growth to Heritage Action to the rec centers where Tea Party activists had been told why they should care about this, there was much celebration.
Just a month later, the momentum seemed to halt. Tennessee Rep. Stephen Fincher, one of the Tea Party's first celebrities for his journey from "gospel-singing farmer" to congressman, used his role on the House Financial Services Committee to save Ex-Im with a short-term deal. Today, Fincher hopped onto a phone call organized by the Exporters for Ex-Im Coalition to insist that McCarthy was coming back into the light, possibly before the June 30 deadline by which the bank needs to be reauthorized.
"Kevin McCarthy is one of my best friends," Fincher said. "His job is very political. We all know that. He does understand the importance, though he has fallen prey to the political climate we're in." 
The evidence that McCarthy was gettable? "I said to him, you know this has to get done," said Fincher, "and he gave me one of his crazy California smiles."
Later today, anti-Ex-Im hawk Jeb Hensarling will chair a critical hearing on the bank. Any further evidence of McCarthy's thaw has yet to be revealed. The worry about its possible death was evident on the call, as businessmen speculated about a future of American weakness.
"These things have a way of escalating," said Dick Rogovin, the CEO of Cambridge, Ohio's U.S. Bridge. "I'd be very concerned about this blindfold approach hurting our economic influence aboard and our military influence abroad."
Before it's here, it's on the Bloomberg Terminal.
LEARN MORE