Hillary Standing (And Not Standing) By Her Man
Hillary Clinton's husband is her greatest asset, and greatest liability. Here are 15 things she thinks about him that she's seen fit to share with the public.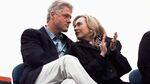 The '92 campaign
"Anyone who knows my husband, knows that golf is a passion, to put it mildly." —On a stop in Dade County (Via the Federal News Service)
"When people try to drive you out of a race as hard as folks have been doing to my husband, that says to me that they're afraid of him, afraid of the changes he represents. You cannot give into that kind of intimidation. If anything, it has made my husband fight even harder." —On a stop in Columbus, Ohio (Via the Columbus Dispatch)
"You know, I'm not sitting here—some little woman standing by my man like Tammy Wynette. I'm sitting here because I love him, and I respect him, and I honor what he's been through and what we've been through together. And you know, if that's not enough for people, then heck, don't vote for him." —Interview with Steve Kroft of "60 Minutes" following the Gennifer Flowers allegations
"With my husband, you get someone who is open, who listens, who wants to learn, who wants to bring about real change for America. [...] Ronald Reagan was influenced by the strong men around him. My husband seeks out dozens and dozens of people, but makes his own decisions." —While meeting California delegates (via "The Toronto Star")
"I think my husband has proven that he's a man who really cares about this country deeply and respects the Presidency and believes strongly that he's doing the right thing, and when it's all said and done, that's how most fair-minded Americans will judge my husband. And all the rest of this stuff will end up in the garbage can where it deserves to be." —Speaking to Reuters following the Troopergate allegations (via the New York Times)
"On our first date—which was not really a date—we stood in line to register for classes, and after we finished we went out for a Coke. We started talking, went for a long walk—we ended up in front of the Yale University Art Gallery. It was closed. But my husband had been there a week or two before and he wanted to show me the Mark Rothko exhibition inside and a Henry Moore exhibition in the sculpture yard. He found a worker who said it had to be closed because of a labor dispute. And so my husband said, 'Well, if we pick up the garbage, will you let us in?'" —About how she and Bill met (via the Associated Press)
The Monica Lewinsky scandal
"I was furious and getting more so by the second. He just stood there saying over and over again, 'I'm sorry. I'm so sorry. I was trying to protect you and Chelsea.' I couldn't believe what I was hearing. Up until now, I only thought that he'd been foolish for paying attention to the young woman and was convinced he was being railroaded. I couldn't believe he would do anything to endanger our marriage and our family. I was dumbfounded, heartbroken, and outraged that I'd believed him at all. [...] Bill's standing in public opinion polls remained high. His standing with me had hit rock bottom ... I could barely speak to Bill, and when I did, it was a tirade." —From her 2003 memoir "Living History" (Via excerpts published by CNN)
"It was a lapse, but she says to his credit he tried to break it off, tried to pull away, tried to manage someone who was clearly a 'narcissistic loony toon'; but it was beyond control. [...] HRC insists, no matter what people say, it was gross inappropriate behavior but it was consensual (was not a power relationship) and was not sex within any real meaning (standup, liedown, oral, etc.) of the term." —From the archive of friend and confidante Diane Blair (via CNN and the Washington Free Beacon)
"This relationship has been tried and tested and it gives me an enormous amount of support and satisfaction and pleasure. As I write about my husband, he is a force of nature. I knew that when I met him. I married him with my eyes open. I knew that this was one of the most energizing, interesting, larger-than-life people I'd ever met. And I can only say that for me, meeting and marrying Bill and choosing to stay married to him when I did were the right choices." —Speaking to NPR's Juan Williams upon release of her 2003 memoir "Living History"
"Anyone who knows my husband knows that he is an extremely generous person to people he knows, to strangers, to anybody who is around him. [...] If you know my husband, you know that he is somebody who will, you know, say, 'How would you like this?' I mean, I've seen him take his tie off and hand it to somebody." —Speaking to Matt Lauer on the "Today" show (via the Washington Post)
The impeachment proceedings
"My personal feelings and political beliefs were on a collision course. As his wife, I wanted to wring Bill's neck. But he was not only my husband, he was also my president, and I thought that, in spite of everything, Bill led America and the world in a way that I continued to support. [...] I believe what my husband did was morally wrong. So was lying to me and misleading the American people about it. I also knew his failing was not a betrayal of his country. Everything I had learned from the Watergate investigation convinced me that there were no grounds to impeach Bill. If men like Starr and his allies could ignore the Constitution and abuse power for ideological and malicious ends to topple a president, I feared for my country. [...] I believed Bill was a good person and a great president. I viewed the independent counsel's assault on the presidency as an ever escalating political war, and I was on Bill's side." —From her 2003 memoir "Living History" (Via excerpts published by CNN)
The Senate years
"I'm certain that if my husband and his national security team had been shown a classified report entitled 'Bin Laden Determined to Attack Inside United States,' he would have taken it more seriously than history suggests it was taken by our current President and his national security team. [...] I think my husband did a great job in demonstrating that Democrats are not going to take these attacks." —During a Capitol Hill press conference in 2006 (via the New York Times)
The 2008 campaign
"You know my husband, she said. You've seen what happens. We're going to be explaining something that he said every other day. You know I can't control him, and at some point he'll be a problem." —Paraphrased conversation with then-candidate Barack Obama as reported in "Game Change" (via the New York Times)
"Now don't get me wrong, I have absolutely nothing against rich people. As a matter of fact, my husband, much to my surprise and his, has made a lot of money since he left the White House, by doing what he loves doing most—talking to people." —At a North Dakota Democrats convention, about releasing her and her husband's tax records (Via the New York Times)
The State Department
"Wait, you want me to tell you what my husband thinks? My husband is not the secretary of state. I am. So you ask my opinion? I will tell you my opinion. I'm not going to be channeling my husband." —Responding to a question from a student at a town hall in the Democratic Republic of Congo (via ABC News) 
Before it's here, it's on the Bloomberg Terminal.
LEARN MORE