Hillary Clinton Inks Deal for 'Brooklyn Cool' Offices
The deal sets the clock ticking for either the formation of an exploratory committee–or a full-fledged candidate committee.
by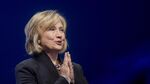 Hillary Clinton's team signed a lease for office space in Brooklyn earlier this week, two people familiar with the move said Friday, triggering a regulatory countdown clock toward a more formal acknowledgment of what's already clear: She's running for president.
Her campaign-in-waiting has committed to nearly 80,000 square feet at 1 Pierrepont Plaza on the eastern edge of Brooklyn Heights, half a mile south of the Brooklyn Bridge and near a dozen subway lines and just as many buses. The lease was signed on Wednesday, one of the people said.
The building's marketing materials describe it as offering "Modern Offices. Brooklyn Cool."
The decision to situate Clinton's campaign headquarters in the borough had been final for weeks, as was the selection of the building. But Clinton's team held off on inking the deal, since it gives her 15 days under Federal Election Commission rules to launch either an exploratory committee or a full-fledged candidate committee. That gives her until April 16 to take a next step.
The campaign has signed a lease for two floors of office space, averaging around 38,500 square feet. Her team will take possession of the space without doing any construction and gained access to the space on Friday. Politico first reported on the signing.
Once staffers move in, it will unify what's been a scattered operation. Some people have been working out of Clinton's small office in midtown Manhattan, while others have set up shop in their apartments, or in coffee shops or hotel lobbies.
The building is owned and managed by Forest City Ratner, which also developed the nearby Barclays Center, home of the Brooklyn Nets. Executive chairman Bruce Ratner owns a minority stake in the team and has given over $400,000 to Democratic candidates and committees, though never directly to Clinton, according to FEC records. 
CBRE represented the Clinton campaign, and the deal was brokered by Keith Caggiano and Roshan Shah.
Other tenants in the building, which is also known as 300 Cadman Plaza West, include Morgan Stanley and the offices of the U.S. Attorney for the Eastern District of New York, a job currently held by U.S. attorney general nominee Loretta Lynch.
Clinton had previously considered headquarters in Queens and in White Plains, the Westchester County city that's a 20-minute drive from her home in Chappaqua. 
Clinton spokesman Nick Merrill did not respond to a request for comment. 
Before it's here, it's on the Bloomberg Terminal.
LEARN MORE