Martin O'Malley Wants to Be the Glass-Steagall Candidate
The former Maryland governor escalated his attack on Wall Street as he mulls a run to Hillary Clinton's left.
by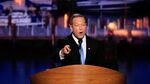 Former Maryland Gov. Martin O'Malley, who seems to be readying a 2016 run as the un-Hillary, stepped up a campaign line this past weekend: bring back the Glass-Steagall Act.
"Today, most Republicans in Congress are hell-bent on disassembling the Dodd-Frank Act," O'Malley's PAC wrote in an email to supporters Monday. "And too many Democrats have been complicit in the backslide toward less regulation."
It was a complement to what O'Malley declared over the weekend during first swing through Iowa for the year, when he called for tougher sanctions on banks and advocated reinstating Glass-Steagall, Depression-era legislation that separated commercial and investment banking but was largely dismantled during The Clinton Administration. The Dodd-Frank Act, signed in 2010 as a response to financial crisis, promised to put back in place some of Glass-Steagall's protection, but many of the reforms have been stymied.
Democrats "must not allow another Wall Street meltdown to bring down hard-working families," O'Malley said in Iowa Friday, according to the Washington Post. The tough talk on Wall Street would help him in "aggressively positioning himself as an alternative to" Clinton, the Post said. In another article, the paper said O'Malley would run to the former Secretary of State's left on financial issues and quoted him as saying Democrats "can't let ourselves become the party of Dodd-Frank-lite."
"Although job creation rates and GDP are on the upswing, there is lingering hardship for millions of families that traces back to Wall Street's reckless behavior," O'Malley's Monday email said.
Clinton has defended financial reform, including the Dodd-Frank Act, but many Democrats have worried that she has relied too heavily on the financial sector for donations and staffing. In an editorial published Sunday, the Boston Globe urged Massachusetts Senator Elizabeth Warren to run for president on those issues. In 2008, then-Senator Barack Obama ran to the left of then-Senator Clinton on the Iraq War in the Iowa caucuses, which is the nation's first presidential nominating event, and his win helped propel him to the Democratic nomination and the presidency.
O'Malley has also urged raising the minimum wage, expanding Social Security benefits, and ensuring equal pay for women, but he has often dodged opportunities to criticize Clinton directly.
O'Malley has said he'll make a decision by May. Clinton's announcement is expected in April. Warren has said she will not run.
Before it's here, it's on the Bloomberg Terminal.
LEARN MORE