The 'Super PAC to End Super PACs' Makes a Strategic Retreat
Larry Lessig's good-government campaign reinvents itself.
by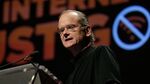 Larry Lessig did not have a good 2014. The Harvard professor and anti-corruption campaigner's Mayday PAC, launched with great fanfare, saw a cash inflow that exceeded his wildest Little Nemo dreams.
"We raised the initial $1 million in 13 days, rather than 30," Lessig wrote this past weekend at Medium. "That was matched two weeks later, and then we launched the second campaign. Thirty days after that, we crossed the $5 million mark. And over the next months, we got close to matching that $5 million. By the end of our campaign, we had raised $11 million of the $12 million that we had planned, with more than 50,000 donors from almost every state in the union."
The problem came when the voters got to vote. A cash infusion into Scott Brown's GOP primary did not prevent him from winning it. A surprise seven-figure surge into South Dakota's four-way Senate race roused the party committees, which counter-attacked and bailed out now-Senator Mike Rounds by comparing Democrat Rick Weiland to President Obama.
And so, in this weekend's Medium post, Lessig announced that Mayday would not just raise money to buy ads and swing elections. He envisioned "a crowd-sourced project to identify possible allies in Congress" and "a platform that we have been building to engage citizens as lobbyists." Upshot: Mayday would not play kingmaker in elections the way it had in 2014, because that didn't work.
That was fine by Weiland. The defeated Democrat is launching his own government accountability project, TakeItBack.org. It recycles the main anti-establishment theme of his campaign. "We might even make another music video," laughed Weiland in an interview.
Weiland was cheered by the success of ballot initiatives in South Dakota (where a minimum wage measure ran 28 points ahead of the Democratic ticket), and wanted to help citizens in other states improve their governments with referenda on economics and congressional redistricting.
That, he said, would be more productive than the eleventh-hour super-PAC ads. "It's kind of aggravating when you've traveled to every town and you're trying to spend what you have on the last month or two, and you're almost irrelevant," said Weiland. "Thank the Supreme Court and the nine justices that agreed on Citizens United. The outside groups probably come to their own conclusions, but I can tell ya, some of the stuff they did on television, the ads that they bought—they spent the money but it's a question of how well they spent it."
Every Voice Action, the other super-PAC that barreled into South Dakota, did not disagree. In an interview, EVA President David Donnelly said that the group had "made some mistakes," largely by trying to shape a race with late money.
"Getting out early in the cycle is important, particularly on an issue that's definitional—on this theme of who do you work for," he said. "It creates more momentum, so we're not carrying message on our own. In South Dakota, we should have compared and contrasted the candidates a little more up front. That was a difficult one to win, in retrospect."
Before it's here, it's on the Bloomberg Terminal.
LEARN MORE