How the NRA's Internal Election Became a Civil War Over Radical Islam
Grover Norquist, Frank Gaffney, and the battle that could reach Hillary Clinton's campaign.
by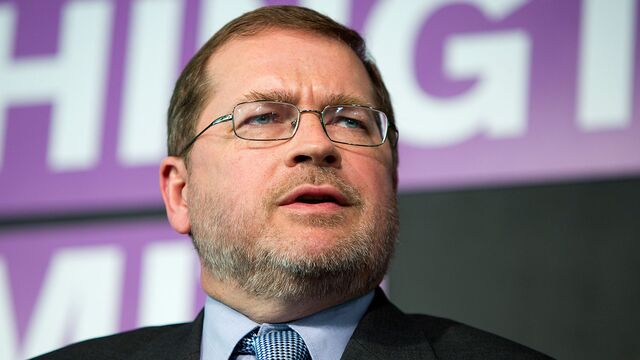 Last week, when Glenn Beck threatened to quit the National Rifle Association, the news rocketed around the progressive media. It had seemed to shoot out of the blue—what would put Beck at loggerheads with the gun lobby? What was his beef with Grover Norquist?
"If this man is elected, or re-elected, and confirmed on the board of the NRA, I may drop my membership in the NRA," Beck told listeners and viewers of his show. "I am that concerned that he is a very bad influence and a very bad man that, if this is who the NRA decides to put on their board of directors, I don't think I can be associated with them."
Beck had just finished an interview with Frank Gaffney, the president of the Center for Security Policy, whose pitched battle with Norquist had dragged on for years. Over the last month, Gaffney and friends had tried to use the NRA board election—in which any member with more than five years' standing may vote before next month's Nashville convention—to humble Norquist. The mission was to influence NRA voters to vote for literally anyone else, and thereby kick the president of Americans for Tax Reform off of one of his perches, lest he use the NRA to pursue "these influence operations on behalf of enemies of this country."
The Beck interview mostly covered old terrain. Gaffney's attacked Norquist in every available forum, accusing him of doing the Muslim Brotherhood's work in America. The allegations begin with the work Norquist started before 9/11, connecting the Republican Party with Muslim groups in an attempt to win over new voters. After 9/11, Norquist's lobbying took on an aura of controversy. In a November 2001 piece for The New Republic, Frank Foer reported that a "man who fingered Israel as a potential sponsor of the World Trade Center attacks" could recite "Norquist's phone number from memory." Into the Bush years, and the Obama years, Gaffney and the Center for Security Policy accused Norquist of serving as a conduit between Washington's elite and Muslims who ended up having ties to radical groups.
In 2011 and 2012, the campaign seemed to backfire on Gaffney. He used speeches at the Conservative Political Action Conference, with C-SPAN cameras running, to warn conservatives about Norquist and conservative activist Suhail Khan. Norquist appeared to end the controversy after Cleta Mitchell, an American Conservative Union board member and powerful attorney, met with Gaffney and rejected his research and theories. "I will work to ensure that any organization with which I am involved will not be allowed to be used as a platform to spread Mr. Gaffney's baseless attacks," wrote Mitchell in a 2012 letter to fellow ACU board members. In 2013, Gaffney was not invited to address CPAC; Breitbart News instead hosted a panel called, cheekily, "The Uninvited."
And Gaffney had an audience with Beck. In the new, viral clip about the NRA election, Beck professes that he's "not an expert" on Norquist. That's disingenuous; in 2013, Beck was hosting Gaffney and calling Norquist "the guy responsible for a lot of the Muslim Brotherhood stuff that goes on in the White House." He'd furthered that storyline, and Gaffney had certainly never given up on it. In February, filmmaker and journalist Lee Stranahan created a small Facebook group called "No on Norquist" as a way to share the reporting he'd done for the Center for Security Policy and to build awareness of the no-vote push. On conservative blogs, the word was getting around. One month ago, Norquist went on the record denouncing the campaigns against him, linking them (without a name) to Gaffney.
"I have such a stalker whose conspiracy theory is that I ran the Bush White House and presidency," Norquist wrote in a February open letter to the NRA. "He spins conspiracy theories that I am gay, a Muslim, responsible for the Bush foreign policy failures. (For the record, No. No. and No.) One of his staffers told me I was part of the Russian Jewish Mafia. (Also no, but I think that would pay better.)"
That got some attention, but Beck's threat effectively reset the narrative. A visitor to the NRA's homepage today will see a "message from Glenn Beck." After the gun lobby had been "inundated with calls," Beck had received a personal call from Wayne LaPierre, its CEO. "Wayne assured me and asked me to convey to you that he and the NRA are taking this very seriously," said Beck. "They are beginning an open and transparent investigation into these alleged ties and relationships and will provide the results to me, my audience, and NRA members."
To Stranahan, this sounded a little too pat. Any "investigation" of the CSP's accusations would likely drag on past the April vote. To Norquist and ATR, it was distressing enough to see a huge new audience hearing Beck's digest of claims they really thought they'd debunked and buried under a landfill.
"Frank Gaffney has been peddling this conspiracy crap for 15-plus years," said Norquist spokesman John Kartch in a new statement. "The press has found it beneath contempt. The American Conservative Union looked at it all and voted to condemn Gaffney. The Weyrich meeting looked at it and voted to expel Gaffney. Everyone with a stomach strong enough to look in-depth at Gaffney's collection of nonsense—including that Grover is supposed to be gay—has found it ridiculous. The NRA would be the fourth national conservative group to investigate Gaffney's charges, and the fourth group to point out that Gaffney's conspiracy theory is without merit."
If it does, and if members are convinced, Norquist stays on the NRA board. If members vote out Norquist, it will be a tremendous social-media victory for Gaffney and his allies, and it would lend new attention to his larger campaign to find out whether the inner circle of Hillary Clinton, the presumptive 2016 Democratic presidential nominee, has been infiltrated.
"Her emails are of particular interest insofar as [Clinton aide Huma] Abedin has extensive ties to the Muslim Brotherhood," wrote Gaffney this month, referencing charges that surfaced in 2012, were denounced by leading Republicans, and remained potent in conservative media. "That's the Islamist organization whose self-declared mission is 'destroying Western civilization from within.'"
Before it's here, it's on the Bloomberg Terminal.
LEARN MORE