Why Is Joe Biden Doing Arm Curls?
The White House is fighting childhood obesity, one weird Vine at a time.
by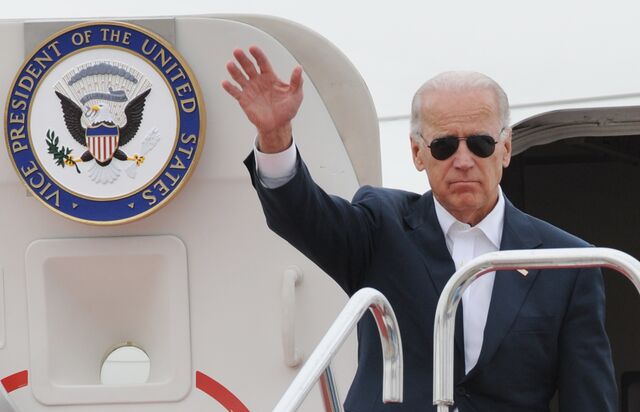 The White House Vine, known for surreal pop culture/political mash-ups like Michelle Obama's "Turnip... for what?" has a new bizarre video on Friday, featuring Vice President Joe Biden lifting weights and taking fake calls with world leaders. "I do a million of these a day, so just give me five," Biden says in the clip.
As planned, the clip inspired dozens of jokes on social media. "'-bo do you even lift?'" tweeted Fusion's Brett LoGiurato. "The line between IRL Joe Biden and Onion Joe Biden continues to blur," wrote BuzzFeed's Hayes Brown.
The world can thank Michelle Obama for the Biden workout. Last month Michelle Obama announced her #GimmeFive challenge in honor of the 5th anniversary of Let's Move, her effort to curb childhood obesity. In a recent video—complete with a cameo from the president—the first lady encouraged people to use the hashtag to show five ways to be more fit, by eating five vegetables or five jumping jacks. "I want kids, parents, maybe even a few celebrities to give me five ways to be healthy," she said.
According to Good Morning America, #GimmeFive is going viral on social media. Hugh Jackman did lunges, Beyonce posted a Vine of five workout moves (set to "Eye of the Tiger"), and Michelle Obama visited the Ellen DeGeneres Show to dance to "Uptown Funk" by Mark Ronson. 
While Michelle Obama caught some social media flack for her Ellen dance, the first lady is no stranger to using viral stunts to gain attention for Let's Move. As CNN noted, "Internet gold? No question. Embarrassing? Definitely. [...] But it shows the outrageous lengths to which both Obamas are willing to go to reach millenials, whether they're selling healthy eating or Obamacare." And if Biden inspires even one person to start working out, it might all be worth it. 
Before it's here, it's on the Bloomberg Terminal.
LEARN MORE