Netanyahu's Speech to Congress Makes it to Israeli Campaign Ads
The speech didn't boost him in the polls, but maybe the edited version will.
by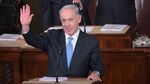 March 3, the day that Israeli Prime Minister Benjamin Netanyahu gave his third speech to the U.S. Congress, had another significance back home. It was, as Daniel Gordis pointed out, the beginning of campaign ads for Israeli's March 17 election. (Israel, like most democracies that lack a First Amendment and a court that has interpreted it to unleash political money, limits election spots to a window right before the vote.) Up to then, Netanyahu's Likud Party had been bidding for virality with online videos that–among other things–warned against replacing him with opposition co-leader Tzipi Livni.
The simulcast of the speech to Congress happened in Israeli prime time–free media with everyone from John Boehner to Elie Wiesel applauding Netanyahu's plea to pre-emptively scotch a deal with Iran. A new ad, as first noted by Laura Goldman, finally converts the speech into a greatest-hits election tape.
This is surprising. The image of the speech was impressive. The impact of the speech has been that of a tremendous own goal, kicked right from the middle of the pitch. Since the speech, Netanyahu's Likud had fallen slightly behind the Zionist union led by Livni and Isaac Herzog. The prime minister's lost most of a lead he'd held over Herzog when voters were asked whom they preferred to see in the top job–something the speech to Congress was supposed to emphasize. In an interview Thursday, Livni felt comfortable enough about the backlash to the speech to say Netanyahu was boosting himself at Israel's expense. "I believe we know how to work better with the international community to prevent Iran from getting a nuclear weapon," she told Gil Hoffman.
Livni and Herzog are benefitting from what turned out to be a sophisticated, far-sighted effort to undermine Netanyahu's speech. Democrats saw an opportunity in Boehner's opportunism. The speech was always understood as a Republican move to undermine the president's negotiations. Democrats, as a rump of them peeled off and boycotted the speech, warned that Netanyahu's willingness to be used made him a less effective voice.  On Friday, Tennessee Representative Steve Cohen–who is Jewish– reacted to the new Likud ad by warning that the speech was always going to be an election gimmick, benefiting no one but Netanyahu.
"I predicted that Prime Minister Netanyahu would use this speech before Congress for political purposes," said Cohen in a statement. "I had hoped this prediction might have had a chilling effect and caused the Prime Minister to reconsider before using Congress as a campaign backdrop. Instead, my fears have been realized."
Before it's here, it's on the Bloomberg Terminal.
LEARN MORE