Who Pays for America's Biggest Conservative Gathering?
The story of how the Conservative Political Action Conference mushroomed from a small, informal gathering of the right into a multimillion-dollar can't-miss pageant for the Republican Party.
by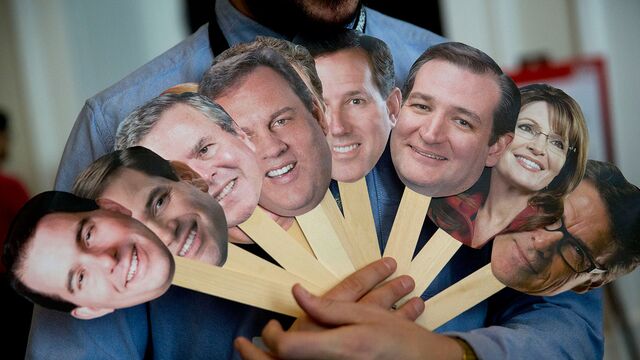 On Thursday, several thousand conservative activists from across the country will swarm the National Harbor convention center near Washington for a three-day affair that will feature most of the potential Republican candidates for president, from Ben Carson and Carly Fiorina to Jeb Bush and Scott Walker.
The story of how the Conservative Political Action Conference, or CPAC, mushroomed from a small, informal gathering of the right into a multimillion-dollar can't-miss pageant for the Republican Party is reflected in its corporate sponsors. It's underwritten by the National Rifle Association, the Heritage Foundation, the Trump Organization Inc. and the Motion Picture Association of America in addition to much more modestly moneyed religious and small-government interest groups. 
The American Conservative Union, the nonprofit organization that puts on CPAC, generated $8 million in revenue in 2013, according to its most recent tax documents, almost double its budget just two years earlier. The funding explosion coincided with the rising influence of the Tea Party movement, which became a guiding force in the 2012 presidential election. On the CPAC stage that year, eventual Republican nominee Mitt Romney, once the governor of deep-blue Massachusetts, labeled himself "severely conservative."
The CPAC presidential tryouts continued in 2013 and 2014, with New Jersey Governor Chris Christie and Kentucky Senator Rand Paul drawing some of the largest crowds and warmest receptions. But as CPAC's influence on the party has grown, some of the activists have complained that it's also become stale, said Matt Schlapp, chairman of the American Conservative Union. This is his first year at the helm of CPAC. 
"As I rethought the way CPAC occurs, I wanted to focus every decision we make on what's best for the activists who are attending," Schlapp said. He was thinking about his mother, he said, who's coming to the convention from Wichita, Kan. The plane ticket, hotel room, and three-day pass represent a significant investment for people like her, he said. "They need to feel like they're getting something special for the money."  
To shake things up, speakers will respond to questions posed through Twitter in addition to delivering prepared remarks, Schlapp said. Some presidential hopefuls, including Bush, are choosing to forgo a formal speech altogether in favor of a longer Q&A session. The roster includes Marco Rubio, Rick Perry, Rick Santorum, Bobby Jindal and Ted Cruz.  Schlapp said the 2016ers would be wise to take as many questions as possible. "Anybody who tries to talk through the Q&A is telling people that they don't really want to hear from voters."
And Schlapp said CPAC won't try to hide divisions among conservatives—another criticism of attendees in recent years, he said. "The feedback was that some issues were sanitized, that there appeared no disagreement where there actually is," he said. This year's panels on immigration, gay marriage, education, privacy versus national security, and conservative approaches to criminal justice should be meaty, not preachy, he said.
As a nonprofit group, the American Conservative Union is not required to disclose its donors. But a review of CPAC's marketing materials, schedule and ACU's 30-person board of directors shows who's paying the bills. 
The NRA exemplifies the symbiotic and multi-layered relationship between CPAC and its funders. The gun lobby group is a "presenting sponsor," the convention's top tier of donors, though its unclear how much money that involves. And the NRA is again helping to pay for an exclusive opening-night CPAC party, called the "Good Guys Reception." It's invitation-only.
Wayne LaPierre, the NRA's chief executive officer, is a featured speaker at CPAC, commanding the Friday slot just before Bush. David Keene, one of the ACU's board members and its long-serving chairman, from 1984-2011, is the past president of the NRA. His current employer, the Washington Times (he's now the news organization's opinion editor), also is a CPAC "presenting sponsor."
One America News Network, a new cable news network that began as a partner of the Washington Times, is sponsoring the Ronald Reagan Dinner on Friday night. Indiana Governor Mike Pence will give the keynote address.
Other conservative-leaning media also help pay for CPAC: Breitbart, the National Review and Salem Communications. Another set of sponsors includes conservative activists and research groups such as Citizens United, Americans for Tax Reform, the American Principles Project, the Heartland Institute, the Leadership Institute, the College Republican National Committee, Let Freedom Ring and Tea Party Patriots.
Some of the presidential hopefuls speaking also put up money for CPAC through outside groups they lead. That donor list includes the Jobs, Growth & Freedom Fund (Cruz) and Patriot Voices (Santorum). The Trump Organization's Donald Trump, who reportedly hired a presidential campaign manager in-waiting this week, also will speak. In all, CPAC's program lists more than 50 corporate and organizational sponsors.
And of course the attendees also make up a good bit of the convention's funding. By some accounts, 10,000 people attended last year. A premium, all-inclusive pass purchased on site costs $1,700. For seniors—like Schlapp's mom—a three-day pass costs at least $150.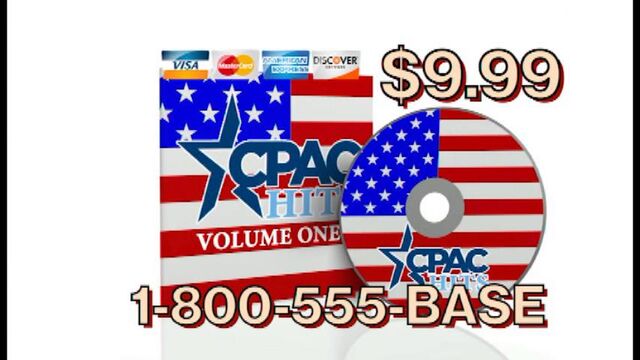 Before it's here, it's on the Bloomberg Terminal.
LEARN MORE