Jon Stewart Was Ready for Warren
Her frequent appearances on The Daily Show introduced her to a wide audience, and to an ideological ally.
by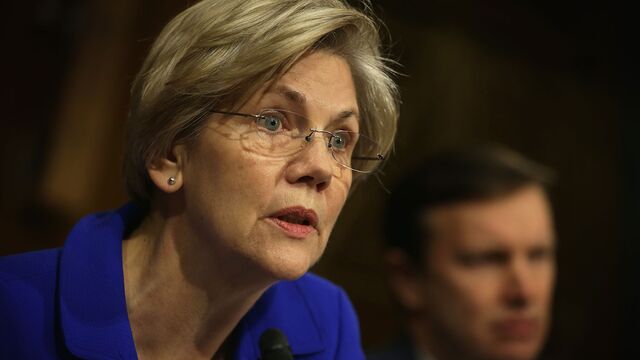 When Elizabeth Warren first appeared with Jon Stewart on The Daily Show on April 15, 2009, she was a Harvard Law professor who stumbled over figures and forgot acronyms as she tried to make a case for financial regulation without offending anyone too much. By the time the comedian said on Tuesday night that he would be retiring from the show this year, Warren was a senator whose powerful anti-Wall Street vision overturns even the White House's best-laid plans and whose followers desperately want her to run for president herself.
Stewart, whose smart political comedy had already made him the voice of the liberal id and superego during the Bush years, did much to help launch Warren's career in the next era, inviting her on regularly as, together, they helped re-channel the left's anger toward Wall Street.
"Washington is rigged for the big guys," Warren tweeted after Tuesday's announcement, "and no person has more consistently called them out for it than Jon Stewart. Good luck, Jon!"
Stewart has brought Warren on the show five times, according to IMDb. In that first appearance, she was chair of the Congressional Oversight Panel on the Troubled Assets Relief Program. She had been on Dateline a few weeks earlier and a segment of 60 Minutes before the crisis. Her book A Fighting Chance was due out the next week. But most of her big media appearances were still in the future. She fumbled immediately, saying she didn't know exactly how much money TARP had sent out. She recovered, though, when she alleged that companies had given the U.S. stock in exchange for their bailouts, claiming a fair trade but only delivering 66 cents worth of stock for every dollar of rescue money. From there, she went on to blame the rollback of Depression-era financial reforms for the crisis and recommend reinstating the regulation and increasing transparency.
"That's the first time in six months to a year that I've felt better," Stewart said at the end of the interview. "And if they don't give you transparency, you tell me, and I'll keep talking about it."
They both did. Within eight months, Warren was back on the show, asking, "Is it gonna be that the CEOs on Wall Street that write all the rules or are we going to say, 'No, enough of that'?" She almost choked up as she described meetings with tycoons. "I want to turn to these guys sometimes, and I want to say, 'What part of "we bailed you out" do you not get?'"
She came back in April 2011, when she was still angling to head the Consumer Financial Protection Bureau she had recommended and was already running unofficially. The job ultimately went to Richard Cordray, a perceived injustice that gave her momentum to run for the Senate. She appeared with Stewart, as a candidate, in January 2012, bantering with him about the Super Bowl to display her approachability, and again as a senator in April 2014.
"The Daily Show deeply connected her to an audience that cares about the issues that she works on but didn't know that they had a champion in public life," said Neil Sroka, a spokesman for Democracy for America, a partner in the Run Warren Run campaign. "Jon Stewart is one of the few people in public life who is not afraid of confronting the powerful, and that is a striking similarity between him and Elizabeth Warren, and I think that's why he and Elizabeth Warren work so well."
Before it's here, it's on the Bloomberg Terminal.
LEARN MORE