In 2012, Christie's Camp Told Romney He Needed 'Private Jets' and 'Lavish Spreads'
The New Jersey governor's love of luxury helped cost him a chance to be Mitt Romney's running mate, and now the issue is surfacing again.
by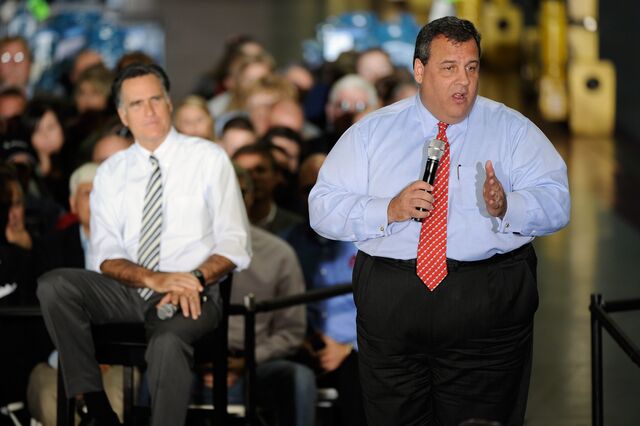 "[Christie] sounds like the biggest a****le in the world," [Romney chief strategist Stuart] Stevens griped to his partner, Russ Shriefer... Trenton insisted on private jets, lavish spreads of food, space for a massive entourage. Romney ally Wayne Berman looked at the bubble around Christie and thought, He's not the President of the United States, you know.
— Double Down: Game Change 2012
Chris Christie is keeping unusually quiet. The tell-it-like-it-is governor of New Jersey canceled two Q&A sessions on Tuesday in London, after the New York Times detailed his penchant for getting others to pay for his luxury travel and, separately, he caused backlash by calling for "balance" on whether or not to vaccinate children.
That's a lot for any politician to absorb, let alone one who is traveling abroad on what has been described as a trade mission but is widely presumed to be part of prepping for a future campaign for president. And it's not the first time that private planes, luxury hotels, conference rooms filled with food, and questionable ties have derailed the governor's efforts to show he has the right stuff to head to the White House.
As detailed in Double Down: Game Change 2012 by Bloomberg Politics' Mark Halperin and John Heilemann, Mitt Romney's 2012 presidential campaign loved the governor's brash style and ability to hammer home the Republican message, and Christie emerged a strong contender to enter as Romney's running mate. 
But there were doubts about "Pufferfish," as he was codenamed for the vetting. Christie had offended the campaign by demanding that Romney not court donors in New Jersey without Christie's say-so. He showed up late to events and tried to steal the show. And then there were the demands for private planes, "even during the campaign," the Times reported on Monday, when Romney's "wife was still flying commercial to save money."
Air travel had already morphed into a distraction for a Christie camp trying to manage presidential ambitions. In 2011, he had briefly refused to refund the state for a helicopter trip that he took from New Jersey's capital to attend his son's high school baseball game and another one he took to get back to the governor's mansion after just five innings to meet "with a group of wealthy Republican donors from Iowa who were in New Jersey to try to persuade Christie to run for president," according to the Star-Ledger, a New Jersey newspaper. After just a day of resistance, he paid $919.20 for the ride.
Romney's confidant Beth Myers, who was leading the VP search, pushed for an aggressive vetting, according to Double Down, even as Christie's people tried to evade answering questions. When answers finally trickled in, it seemed like travel was just the tip of the iceberg.
The vetters were stunned by the garish controversies lurking in the shadows of his record. There was a 2010 Department of Justice inspector general's investigation of Christie's spending patterns in his job prior to the governorship, which criticized him for being "the U.S. attorney who most often exceeded the government [travel expense] rate without adequate justification" and for offering "insufficient, inaccurate, or no justification" for stays at swank hotels like the Four Seasons.
There was more. He steered government contracts to allies and had been slapped with a defamation lawsuit during a previous campaign. His YouTube videos could make him look unhinged.
Then there was Todd Christie, the Governor's brother, who in 2008 agreed to a settlement of civil charges by the Securities and Exchange Commission in which he acknowledged making "hundreds of trades in which customers had been systematically overcharged." (Todd also oversaw a family foundation whose activities and purpose raised eyebrows among the vetters.)
A dossier that the campaign produced "was littered with potential land mines." Between that and a state law that could stop some financial professionals from donating to Romney if Christie joined the ticket, "there was no point in thinking about Christie further."
But just as Christie's presidential ambitions have failed to subside, neither has his love of travel, whatever the political optics. The same year that Romney's vetters shook their heads on him, Christie let billionaire casino magnate Sheldon Adelson fly him to Israel on a private plane with a bedroom even as Adelson wanted Christie to veto a bill legalizing online gambling, the Times detailed. (Christie ended up signing the bill.) At the end of the trip, King Abdullah of Jordan sprung for a weekend for the Christies where they partied with Bono.
Nor have the problems of the flights and food and the four-star accommodations faded from the consideration of the Republican elite. As Romney decided in January whether he'd make a third run for the White House, he dismissed the possibility that he'd be crowding out a viable Christie. "Thanks to the 2012 veep vetting process," Halperin wrote on Jan. 30, "Romney became intimately familiar with some of the less publicized controversies from the New Jersey governor's past, and believes that several of those flaps would mushroom so broadly that Christie soon would be eliminated from consideration by voters and donors."
CORRECTION: An earlier version of this post contained an incorrect spelling of John Heilemann's last name.
Before it's here, it's on the Bloomberg Terminal.
LEARN MORE