Wading Into Foreign Policy, Walker Says He Wouldn't Rule Out Boots in Syria
He is pressed on his foreign-policy views a day after a strong poll showing in Iowa.
by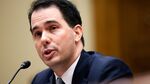 Likely presidential candidate Scott Walker said in a TV appearance on Sunday that he "wouldn't rule anything out," including U.S. troops in Syria, in the fight against ISIS.
The Wisconsin governor was pressed on his foreign-policy views a day after a Bloomberg Politics/Des Moines Register Iowa Poll showed him leading the pack among likely Republican caucus-goers who will vote in a year to help nominate the next commander-in-chief.
ABC News' Martha Raddatz, hosting This Week, reminded Walker about Florida Senator Marco Rubio's recent comments that "taking a trip to some foreign city for two days does not make you Henry Kissinger." Rubio has sought to distinguish himself from 2016 rivals—which include several governors—on foreign policy.
"Marco is a great guy," Walker said, highlighting terrorism assessments he said he has received from the FBI. He said he has not only met with Kissinger but also former Secretaries of State George Shultz and Madeleine Albright.
"What's your big, bold, fresh idea in Syria?" Raddatz asked, paraphrasing what Walker had said earlier about America's needs.
"Well, I think…I go back to the red line," Walker said.
Pushed further, he continued: "I think aggressively, we need to take the fight to ISIS and any other radical Islamic terrorist in and around the world. ... We have to look at other surgical methods. And ultimately, we have to be prepared to put boots on the ground."
"I don't think that is an immediate plan, but...I wouldn't rule anything out," he said.
Before it's here, it's on the Bloomberg Terminal.
LEARN MORE