Kochs to Play Big in 2016—$1 Billion Big
The fundraising goal is more than double what the groups spent in 2012 and would equal what Romney's campaign that year raised.
by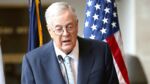 The political network led by the Koch brothers aims to pump nearly $1 billion into the 2016 presidential race, an unambiguous signal that the powerful Republican donors aren't backing down.
The fundraising goal of $889 million was announced Monday at a summit of 450 wealthy donors and small-government activists in Palm Springs, Calif., an attendee said.  It comes a day after the group hosted what was tantamount to the first debate in the Republican primary campaign, with Senators Marco Rubio, Rand Paul and Ted Cruz regaling the private audience for 80 minutes Sunday night.
Taken together, the panel of presidential hopefuls and eye-popping fundraising goal show that billionaire energy executives Charles and David Koch have no interest in shying away from politics, even after being denounced on the Senate floor by then-Leader Harry Reid as "un-American" for secretly steering money into politics.
The attendee said the fundraising goal is meant in part as a statement that the Koch-funded groups and their donors aren't intimidated by Reid.
If achieved, the sum would approach the amount 2012 Republican candidate Mitt Romney spent trying to get elected.
Charles and David Koch, the world's fifth and sixth wealthiest individuals, prefer to invest in politically active nonprofits that don't disclose their donors, so it is unknown how much of their fortune goes into any one election. They also gather contributions from hundreds of other business leaders and distribute the money to an array of nonprofits they've either founded or influence. In 2012, those groups spent some $400 million, an analysis by the Washington Post and Center for Responsive Politics found. The $889 million figure is the sum of the 2016 budgets for the various nonprofits.
Freedom Partners, which put on the Palm Springs event, acts as the central distributor of the money. One of the biggest beneficiaries is Americans for Prosperity, which spent $150 million in each of the previous two elections. AFP is an all-purpose group of activists that both advertises and provides door-knocking services on behalf of preferred candidates.
The elder of the two brothers, Charles, said in the summit's opening session that he and the other attendees must commit to making their cause for a smaller, less intrusive government the "central part of our lives."
"Imagine what we can achieve together if we focus our time, talent and resources on the cause of freedom and well-being," he said, according to remarks the released by Freedom Partners.
Before it's here, it's on the Bloomberg Terminal.
LEARN MORE