Rick Perry Keeps Drilling Andrew Cuomo and New York Over Fracking
In his final address as governor, Perry once again singled out New York.
by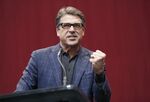 In his final speech as governor of Texas, Rick Perry returned to one of his favorite subjects: Why New York was wrong to ban fracking. 
Long a proponent of hydraulic fracturing, a process in which chemicals, water and sand are blasted into natural gas wells  to facilitate drilling for the commodity, Perry compared Pennsylvania, where the practice is legal, to New York, where it is not, saying that the former state is "creating thousands of energy jobs utilizing fracking to tap deep energy reserves."
"Two states, two vastly different approaches," Perry said, after calling out Cuomo by name for his decision to ban fracking. "One creates jobs. One appeases a political base at the expense of the people. In Texas, we have chosen jobs."
Following the recommendations of the New York State Department of Environmental Conservation, Cuomo decided in December to ban the practice in the state.  "I think it's our responsibility to develop an alternative," Cuomo said. 
In the lead up to that decision, Perry often criticized Cuomo on the subject. 
"I don't understand why a governor like Governor Cuomo, who is a smart and thoughtful individual, would allow a small group of radical environmentalists to stop job creation and to stop people's ability to have a better life for themselves, especially when the science has proven to be safe," Perry, who considers fracking to be environmentally safe, said in a radio interview with New York Post columnist Fred Dicker. 
A December poll by Quinnipiac University found, however, that 55 percent of New Yorkers approve of the ban, while just 25 percent support it. 
As governor, Perry enjoyed traveling to New York, California and other states in an attempt to poach businesses that he argued would fare better under Texas' combination of low corporate taxes and looser  regulations. Now, as he contemplates another run for the White House, he will likely have to compete with past and present governors of states such as New Jersey, Wisconsin,  Arkansas, Florida, Indiana, Louisiana, and Massachusetts, none of which bans fracking. 
Before it's here, it's on the Bloomberg Terminal.
LEARN MORE