Watch Four Former White House Press Secretaries Ambush Josh Earnest
Dee Dee Meyers, Joe Lockhart, Ari Fleischer, Jake Siewert—and what the hell, George Stephanopoulos—call in to try to stump the current press secretary.
undefined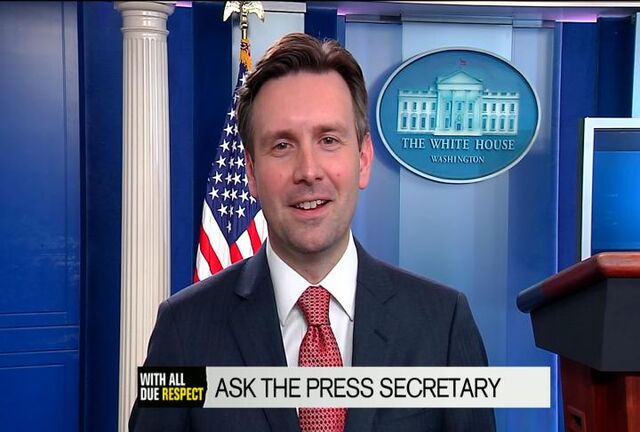 Tuesday night on "With All Due Respect," White House press secretary Josh Earnest was ambushed by call-in questions from predecessors Joe Lockhart, Ari Fleischer, Dee Dee Meyers, and Jake Siewert, plus White House alum George Stephanopoulos.
Their questions:
Meyers: "Just wondering if those rumors are true that you're just using your job as White House press secretary to get a job in the entertainment business."
Lockhart: "Have you ever had to work so hard and then overslept and missed Air Force One? And if you haven't and you did, do you think the president would wait for you? Do you think he'd hold Air Force One for you?"
Stephanopoulos: "You know, I've noticed that you've gotten into some pretty good sparring matches with Jonathan Karl over at ABC. But my question is, which reporter in the briefing room do you learn the most from every day?"
Fleischer: "I've heard that there are four TVs in the office of the press secretary and I think they all used to be set on Fox News. I'm just wondering what station they're set on now."
Siewert: "I understand you're married to a woman who is not only really smart and beautiful, but some people said she is even more qualified than you are to be the White House press secretary. What's the best piece of professional advice your wife has given you and what have you done with that advice?"
Watch the video to see how Earnest responded.
CORRECTION: An earlier version of this post misspelled Jake Siewert's last name.
Before it's here, it's on the Bloomberg Terminal.
LEARN MORE