North Carolina Abortion Law Ruled Unconstitutional
Phil Milford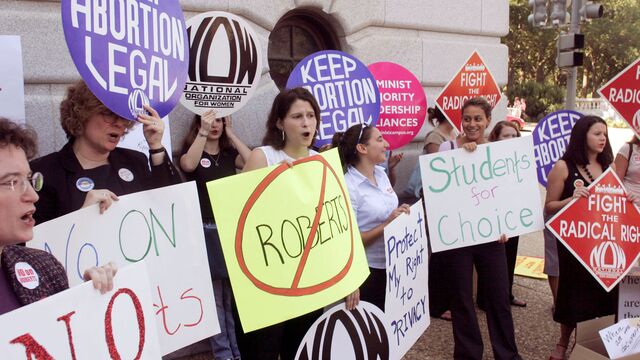 A North Carolina law requiring doctors to give ultrasound presentations to women before abortion procedures was struck down by an appeals panel for violating abortion providers' free-speech rights.
The law is among more than 200 abortion restrictions passed nationwide since a Republican-led push in state legislatures began in 2011. The U.S. Supreme Court last week declined an opportunity to approve tighter restrictions on abortion in Arizona, leaving intact a ruling that blocked a 2012 law restricting the use of drugs to end a pregnancy.
The U.S. Court of Appeals in Richmond, Virginia, yesterday upheld a lower-court decision striking down a requirement that abortion providers in North Carolina show and describe an ultrasound to pregnant women, finding the law was "ideological in intent."
There are 23 states regulating the provision of ultrasound by abortion providers, with 10 mandating that the physician perform an ultrasound on each woman seeking an abortion and requiring the provider to offer the woman an opportunity to see the image, according to the Guttmacher Institute, a research organization that supports access to abortions.
"The clear import" of showing a real-time sonogram to a partially disrobed patient "is to use the visual imagery of the fetus to dissuade the patient" and "is plainly an expressive act entitled to First Amendment protection," the judges in Richmond wrote.
Compelled Speech
"The requirement is quintessential compelled speech" and "forces physicians to say things they otherwise would not say" with "moral or ideological implications," according to the ruling.
Jennifer Canada, a spokeswoman for North Carolina Attorney General Roy Cooper, said in an e-mail that the state will appeal to the U.S. Supreme Court.
"No doctor should be forced to deliver government information that has nothing to do with promoting health," countered Cecile Richards, president of Planned Parenthood Federation of America, in a post on Twitter.
The case is Stuart v. Camnitz, 14-1150, U.S. Court of Appeals for the Fourth Circuit (Richmond, Virginia).
Before it's here, it's on the Bloomberg Terminal.
LEARN MORE