Lawrence Summers' $28 Million Payday, Courtesy of Elizabeth Warren
Senator Elizabeth Warren blocked his nomination and now he's smiling all the way to the bank.
by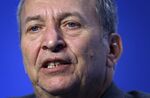 Senator Elizabeth Warren famously declared "there is nobody in this country who got rich on his own.''
That truism presumably includes President Barack Obama's former economic chief Lawrence Summers, a man who just came into millions of dollars in the Lending Club initial public offering. For that good fortune, he can thank his political nemesis, Warren.
The Massachusetts Democrat helped lead a Senate uprising late last year that ended Summers's longtime hope of becoming chairman of the Federal Reserve. Janet Yellen, Warren's favored candidate, got the post.
Summers went back to teaching at Harvard University, a job that, unlike the Fed, allows him to serve on Lending Club's board. As a director, Summers has accumulated a little more than 1 million shares of the company's stock and options, priced at 70 cents a share, according to U.S. Securities and Exchange Commission filings. Since it began trading last week, the peer-to-peer lender's stock has risen to $27.90 a share—giving Summers a likely paper profit of roughly $28 million.
That's real money, even to Summers, an ex-Treasury Secretary, who padded his bank account by collecting large speaking fees from Wall Street banks and consulting for hedge fund D.E. Shaw before joining the Obama administration in 2009. At the time, he reported his net worth to be between $7 million and $31 million in the broad range denoted on federal financial disclosure forms.
Warren's office didn't respond to requests for comment. A spokeswoman for Summers declined to comment.
Nevertheless, if Summers is looking for a way to show some gratitude to his former Harvard colleague and home state senator, he could always cut her a check. A recent campaign mailing offers an end-of-the-year deal: a special edition T-shirt for a $25 contribution. It reads on the back, "The Best Senator Money Can't Buy.''
Before it's here, it's on the Bloomberg Terminal.
LEARN MORE