Darren Wilson Quits Without Severance
Toluse Olorunnipa and Cordell Eddings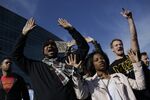 Darren Wilson, the white police officer whose shooting of an unarmed black teenager sparked racial unrest in Ferguson, Missouri, resigned from the force in response to threats, the town's mayor said today.
Wilson's resignation was effective immediately, and he will not receive a severance payment or continued benefits, Mayor James Knowles said.
"We've now severed ties with Officer Darren Wilson," Knowles said.
While the city of Ferguson didn't seek Wilson's resignation, Knowles said he hoped it would help calm some of the unrest produced by nightly protests outside the police station. Knowles also said the city had created a civilian review board to evaluate police policies and step up efforts to recruit more officers from minority communities.
Wilson learned about threats to police officers "related to his continued employment" and decided it would be better to resign, his attorney, Neil Bruntrager, said in an interview today on "Fox News Sunday." He didn't provide more detail.
"When Darren was told that, he simply said, 'That's enough,' and it was time to resign," Bruntrager said.
"I'm not willing to let someone else get hurt because of me," Wilson told the St. Louis Post-Dispatch newspaper yesterday.
Grand Jury
A grand jury examining evidence in the case declined last week to bring charges against Wilson, 28, who shot and killed teenager Michael Brown in August in the St. Louis suburb.
Two people were arrested in Ferguson last night, following at least 16 arrests the prior evening, according to the St. Louis County police. Demonstrators angry at the grand jury decision also shut down shopping malls and planned a 120-mile march to the Missouri capital to protest the killing.
Community activists say the Aug. 9 killing of 18-year-old Brown has cast Ferguson as an emblem of poor relations between police and minority communities from New York to Los Angeles.
"This has grown from a moment to a movement," said Leslie MacFadyen, who runs a website that aggregates information about the hundreds of Ferguson-related protests nationwide. "And part of it being a movement is that the activity needs to be sustained. There are many things that are going to be planned in the coming weeks and months."
Knowles said the city would provide scholarships to help train and recruit more black officers. More than 90 percent of the police officers in Ferguson are white, while the town is almost 70 percent black.
Before it's here, it's on the Bloomberg Terminal.
LEARN MORE