An Interview With Jose Antonio Vargas, Undocumented Immigrant Who May Soon Be Documented
How the face of a movement is greeting Obama's executive order: "If I qualify, you bet I'm going to apply. Out of early reports, I qualify."
by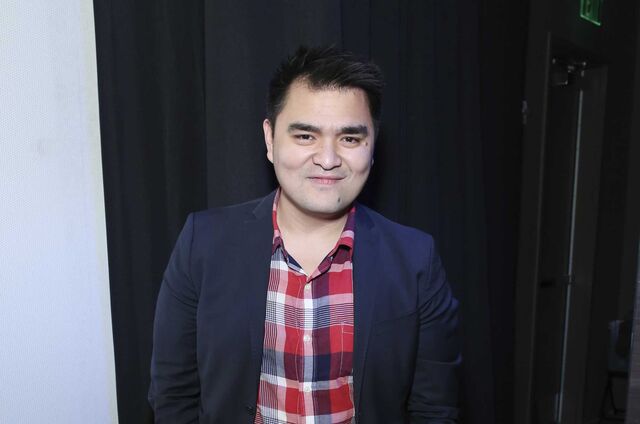 Jose Antonio Vargas was born in the Philippines in 1981, on Feb. 3, as it says on his forged green card. In 1993, his mother sent him to the Bay Area to live with his grandparents. He didn't realize there was anything illegal about that until he went to get his driver's license (a ruder awakening at the DMV than most, we must concede). In the years since, Vargas became a distinguished journalist, profiling Mark Zuckerberg for The New Yorker and working on the team that won the Pulitzer Prize for his work as part of the Washington Post team that covered the 2007 school shooting at Virginia Tech. Vargas reported on technology and video games, HIV/AIDS in the capital, and the 2008 presidential campaign. In 2011, the reporter became his story; The New York Times Magazine published, on its cover, Vargas's essay "My Life As An Undocumented Immigrant." The phrase trended on Twitter across the globe. Even Bill O'Reilly has conceded that Vargas should be allowed to stay in the United States.
But on July 15, he was arrested and briefly detained, on the Texas border. Writing on the experience this fall for Politico, he said, "A month later—in lieu of Congress passing fair and meaningful immigration reform, and in the now-dashed hope that President Obama would be taking executive action soon—I turned myself into the U.S. Department of Homeland Security (DHS), joining 10 other undocumented immigrants in launching a campaign called #1of11Million." As Obama prepared to take executive action on immigration tonight, I spoke with Jose Antonio Vargas. This interview has been edited and condensed.
How do you feel about Obama's executive order as you understand it? How much of a difference will it make?
I think this is … imperfect, it doesn't cover everybody, and that's really tragic. But it's going to be historic. Millions of people who call this country home—who contribute to this country, whose families and roots are in this country—are going to be recognized. The American public doesn't really know who we are. I don't know how many American people know that the majority of us have been here for over 10 years, pay billions of dollars in Social Security. Over 40 percent came here legally and overstayed their visa.
What's missing?
Everyone's going to talk about what's missing. Tonight is something is happening and it's a step in the right direction. It's like a turtle—it's just been crawling. We haven't passed comprehensive immigration reform since 1986. Taylor Swift wasn't even conceived yet. And how many more billions of dollars are we going to get once we have work permits, can pay more taxes, can give more to Social Security? This makes all kind of sense—economically, politically, morally. I've been fascinated with Irish history, recently. I hope that tonight people remember their own backgrounds.
How will this affect you, personally?
Out of almost 30 immediate relatives—that's uncles, nieces, grandmas—I'm the only one who's undocumented. There are 17 million people in America who live in what's called a mixed status household like mine. All day today my nieces, nephews, cousins have been texting me about tonight—they're all American citizens.
Will you apply? 
If I qualify, you bet I'm going to apply. Out of early reports, I qualify.
This September, after your arrest, you wrote in Politico about the "now-dashed hope that President Obama would be taking executive action soon." Are you surprised that he did?
I'm sure the president doesn't enjoy being called deporter-in-chief. I'm sure his legacy doesn't want to be more than 2 million deportations in six years—that's a record. 
Many consider you the face of the undocumented immigrants movement, but your biography is so different from the farmworkers and day laborers that stereotypes would have us think of. Of course, it was through a flub of the AFL-CIO that we first heard yesterday about the president's announcement.
That's the thing. There was a time after I profiled Zuckerberg for The New Yorker, I thought about leaving. For about two weeks, I pondered self-deportation. I thought, everything I wanted to do professionally I got to do. If you don't want me in this country, I'm just going to leave.
But that would mean leaving my home, my friends, my family that is here. I came to the conclusion it was the cowardly thing to do. So many people do not share my circumstances.
I remember once someone telling me, you perpetuate the stereotype of being a good immigrant, a model immigrant. I don't know what that means. I do know that I have been an undocumented immigrant for 21 years now, waiting to live my life as well as I possibly can. We're all in limbo, in purgatory—we're all in the same boat. That's how I justify it in my head. I also have to say, I'm not the face of this thing. I'm one person. If it wasn't for somebody like Gaby Pacheco [director of the Bridge Project], who decided to walk from Miami to D.C., I don't think my soul would have been awakened if I hadn't watched her on YouTube.
I have no control over people saying that: Jose Vargas, the leader of the immigrants rights movement. I'm a journalist and I'm a filmmaker. I have an organization that's all about telling stories. I am not a lobbyist. I am not a political activist. I am not a leader, as far as I'm concerned. My next film is about what it means to be young and white for MTV. My concern right now, what my work is going to center on, is the emerging American identity. I am going to explore what that means.
You sound so optimistic!
I'm a gay undocumented immigrant, I have to be optimistic.  
Before it's here, it's on the Bloomberg Terminal.
LEARN MORE