Congress Can't Halt Immigration Order Through Funding, Aide Says
Erik Wasson, Heidi Przybyla and Mike Dorning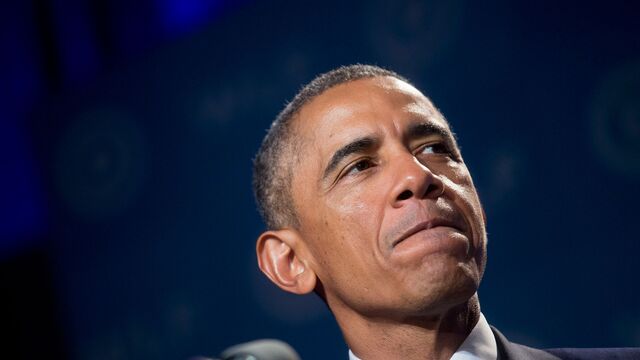 A split among Republicans in Congress deepened over how to block President Barack Obama's executive order on immigration, showing party tension on whether to risk shutting down the government over the issue.
House Speaker John Boehner and Senate Republican leader Mitch McConnell say they don't want a repeat of the October 2013 shutdown caused by a Republican bid to defund Obamacare. An appropriations aide said today Congress can't use spending bills to defund the main immigration agency that would carry out Obama's immigration order.
Other Republicans disputed that argument.
"There is no question that Congress has the power to block this expenditure and no doubt that it can be done," Senator Jeff Sessions of Alabama, in line to become Budget Committee chairman, said in an e-mailed statement.
Representative Steve King of Iowa said the immigration agency "is controlled by Congress. We can scoop all their fees if we want to, we can shut them down."
Obama plans to use a prime-time television speech tonight to present the biggest reprieve for undocumented immigrants in a generation, even as his order falls short of goals embraced by legislation the Senate passed last year.
Some Republicans suggest using spending bills to withhold funds for Obama's actions. Government funding expires Dec. 11, and lawmakers must make new appropriations or risk a shutdown.
McDonough Meeting
White House Chief of Staff Denis McDonough met with Senate Democrats today. Afterward he said, "I'm not sure I know what you're talking about" when asked about potential opposition within the president's party.
Democrats including Joe Manchin of West Virginia, Joe Donnelly of Indiana and Heidi Heitkamp of North Dakota have said the president shouldn't be acting unilaterally. Still, they haven't suggested that Congress should block him.
Senate Majority Leader Harry Reid told reporters that Democrats discussed the matter over lunch and "there's a few people who don't like it -- very few."
A short-term funding bill is becoming more likely than a longer-term plan because of a lack of consensus among Republicans on a course of action, according to two House Republican aides. No decisions will be made until after the Thanksgiving holiday, said the aides, who spoke on condition of anonymity to discuss the private talks.
Short-Term Bill
Republican leaders are working to avoid a short-term spending bill because it means the new, Republican-led Congress would be bogged down by the same spending fights that drove congressional approval ratings to record lows in the past few years. It also would crowd out items they want to advance to show the public they can govern.
McConnell of Kentucky, set to become majority leader in January, said today that "Congress will act" if Obama eases deportations of undocumented immigrants on his own.
Senator Susan Collins, a Maine Republican who voted for the Senate's 2013 plan that would create a path to citizenship for many undocumented immigrants, said Obama's order "infuriates people like me." The fight over his plan's legality will divert energy from rewriting immigration laws, she said.
Senate Democrats said Obama is issuing the immigration order because House Republicans have refused to act on legislation since the senators passed a bipartisan plan in 2013.
'Enough Time'
"We've given them enough time," said Reid, who will become minority leader in January, told reporters. He said Democrats told Obama at a private dinner last night, "we've got his back."
Two Republicans who backed the 2013 Senate bill, Lindsey Graham of South Carolina and John McCain of Arizona, said they were disappointed that House Republicans haven't voted on an immigration plan. Even so, McCain said Obama should wait for the new House membership to consider a proposal next year.
The two Republican House aides said leaders have explored withholding funds for the Justice Department and Department of Homeland Security, which oversee immigration functions, to avoid a full government shutdown. They said there may be other ways to achieve defunding aside from using appropriations bills to shut down immigration functions.
U.S. Citizenship and Immigration Services pays for itself by collecting fees and can expand operations under a presidential order without Congress's approval, said Jennifer Hing, communications director for the Appropriations Committee in the Republican-led House, in an e-mailed statement.
'Plain Wrong'
Hing said in an interview that Congress can attach language countering an executive order to a spending bill, though that would cause Obama to veto the bill. In the ensuing shutdown, the immigration agency would continue implementing Obama's order because it is self-funding, she said.
Sessions said, "The suggestion that the White House can implement any unlawful and unconstitutional act so long as it pays for it with assessed fees is just plain wrong."
"We'll have to see what the order does," Representative Tim Huelskamp of Kansas told reporters. "Any money spent out of the Treasury we have to sign off on."
Obama, in a White House video posted yesterday, said his speech at 8 p.m. Washington time will explain how he's tackling an issue that's been allowed "to fester far too long." He'll then fly to Las Vegas tomorrow to discuss his immigration actions at a school, the president said.
Border Security
The president said the reprieve would affect as many as 5 million people and he explained who would qualify and who wouldn't. He also described other provisions including border security enhancements, according to a person familiar with the meeting who asked for anonymity.
Senate Democrat Patty Murray of Washington said, "Administrative action is a Band-Aid, but it is better than nothing and nothing is what the House Republicans are offering."
Obama's unilateral action, circumventing a deadlocked Congress, promises to initiate a showdown with Republicans. The debate may set battle lines for the 2016 presidential campaign and shape the political loyalties of fast-growing ethnic groups for years to come.
"We're considering a variety of options" to respond to Obama's order, McConnell of Kentucky said on the Senate floor. "But make no mistake. When the newly elected representatives of the people take their seats, they will act."
Some of the most outspoken Republican critics of the president's immigration policies propose responses that don't involve government funding.
Block Nominees
Texas Senator Ted Cruz, who rallied House Republicans behind last year's shutdown, said he wants to block Obama's nominees in the Senate until the president backs down.
Senator Rand Paul of Kentucky said yesterday on Fox News that the House should adopt a resolution opposing Obama's executive action, laying the groundwork for a potential lawsuit.
King said he also favors that approach.
"I only want to do the minimum -- the minimum -- to put the president back in his constitutional boundaries," said King.
Republican congressional leaders say the president is exceeding his authority. They are searching for a response to Obama that satisfies their rank-and-file lawmakers, while avoiding a shutdown of the federal government that could hurt the party's image.
Permanent Status
Between 4 million and 5 million undocumented immigrants will be protected from deportation for the rest of Obama's presidency, according to a person familiar with the plan. That exceeds the almost 2.7 million given permanent legal status by the 1986 immigration law signed by Republican President Ronald Reagan.
The bipartisan Senate legislation that stalled in the House would have initially granted legal status to 8 million immigrants in the country illegally, according to the non-partisan Congressional Budget Office.
Obama's executive action would give temporary visas to undocumented immigrants whose children were born in the U.S., according to people familiar with the proposal. It would expand eligibility for his 2012 Deferred Action for Childhood Arrivals program that has given protection to 600,000 child immigrants.
Obama will also expand a program that gives work permits for up to 29 months to foreign graduates of U.S. universities with degrees in science, technology, engineering and math, according to the people, who requested anonymity before a formal announcement. That provides more workers to fill high-tech jobs.
The administration already broadened eligibility for the program in 2012 by increasing the qualifying fields of study.
National demographic shifts, particularly in competitive states such as Nevada and Florida, make the support of Hispanic voters important to both political parties.
Before it's here, it's on the Bloomberg Terminal.
LEARN MORE