Obamacare Take 2: What Works and What Needs Fixing
Will the site work? Are the premiums higher? Here's what to consider going into the next enrollment period.
by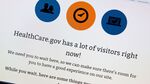 The second round of HealthCare.gov enrollments began on Saturday, giving President Barack Obama's administration a chance to redeem itself from last year's humiliation.
So far, enrollment is going leaps and bounds better than it did last year. According to Department of Health and Human Services Secretary Sylvia Mathews Burwell, 23,000 people filled out applications during the first eight hours of enrollment.
Officials seemed to have learned from their mistakes—at the very least, the site went through more testing—but there are still questions about what the administration has done to improve the user experience, whether premiums have gone up, whether people will enroll and whether the less-talked-about state-run exchanges are fixed, too.
Here are four questions (and answers) to keep in mind as we head into Obamacare round two. 
1. Does it work? 
Then: Not only did HealthCare.gov not work, but for days the Obama administration said it was just "glitchy" or slow to work because of too much traffic. Later reports revealed that contractors warned that the site wasn't ready and hadn't gone through enough testing. In other words, someone dropped the ball on making sure the website actually worked before it launched.
Now: Everything is different about the way the administration is promoting the exchange. During the last enrollment period we watched then-Health and Human Services Secretary Kathleen Sebelius visit an enrollment center as the website crashed.
This week Burwell, her successor, told reporters that the site had gone through five weeks (up from 10 days) of testing, that insurers were involved in the process this time, and that there are only 16 windows to enroll, not 76. "We have done the testing," she said. "We have put in place all of the contingency plans."
Another key improvement is that users can browse plans without filling out an application, and were able to window-shop six days before the site launched. 
2. Are premiums more expensive? 
Then: The answer to this question was "it depends." People who lived in rural areas with low competition and high rates of diseases likely saw higher premiums than people who lived in cities with better competition and healthier populations. There was, and always has been, a lot of variation in premiums.
Now: It still depends. On the whole, it seems that premiums are increasing at a low rate—about 6 percent—and there are more insurers competing on the market. At the same time, that's not universal. A Kaiser Family Foundation analysis found that 2015 premiums are down about 0.2 percent across 48 major cities, but whereas Anchorage, Alaska, is seeing a 28 percent increase, Jackson, Miss., is seeing a 24 percent decrease. 
3. Will it meet its enrollment goals?
Then: The federal exchange enrolled a grand total of six people its first day, and it seemed unlikely that national enrollments would meet the Congressional Budget Office's estimate of 7 million people. The federal and state exchanges went on to enroll over 8 million people. (That number had dropped down to about 7.1 million over the last few months.)
Now: This time around the administration is leading with a projection much lower than the CBO's estimate of 13 million. In a report, the Department of Health and Human Services estimated that between 9 and 9.9 million Americans will be enrolled in Obamacare at the end of the 2015 enrollment period. 
In the report the administration points out that the CBO estimate was made in April 2014, before complete data from the enrollment period was in. Also, the CBO report overestimated how many employers would shift their employees onto the exchanges. 
4. What about the state-run exchanges? 
Then: Despite being touted as proof that success came to those who embraced Obamacare, several state-run exchanges experienced crippling problems. While Kentucky and Connecticut were praised for their exchanges, Maryland adopted Connecticut's technology and Oregon switched over to the federal exchange. 
Now: The good news for Maryland and Oregon residents is that they'll be using better exchanges. The bad news is that most of them—everyone in Oregon and Maryland consumers who received subsidies—will have to re-enroll.
Meanwhile, Idaho will become the newest state to run its own exchange. The Republican-run state decided to launch its own exchange last year to exercise control over it, and now hopes to enroll more people in the state than the federal exchange did last year. Idahoans can also rest easy knowing that if the Supreme Court rules that premium subsidies from the federal exchange are illegal, their new state exchange won't be affected. 
Before it's here, it's on the Bloomberg Terminal.
LEARN MORE