Democrats' Dreams Put on Hold by Nunn's Defeat
Duane D. Stanford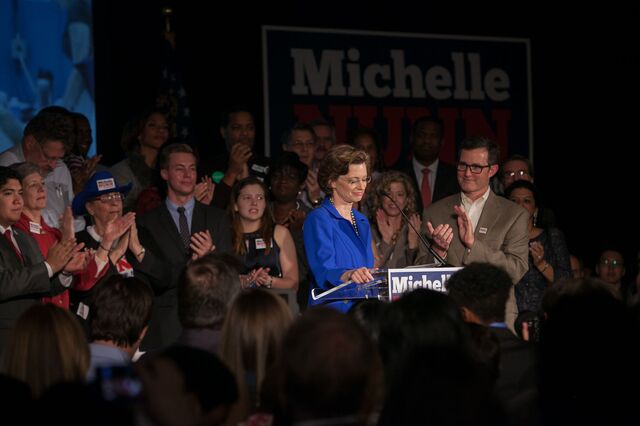 Michelle Nunn was supposed to put Georgia Democrats back on the map.
In the days leading up to Nunn's failed bid for the U.S. Senate, pundits and strategists talked about the possibility of an outright victory over Republican David Perdue as polls signaled at least a runoff. The state's influx of minority voters would be key, they said.
That's not how it came across on the ground.
During a final 600-mile swing through the state in what turned out to be her strongest regions, Nunn's stops lacked the unabashed enthusiasm one might expect of a campaign destined to make history by electing the state's first female senator and putting Republicans on notice.
These events may have simply reflected Nunn's humble style and unaffected manner. Her strength, after all, is a believable empathy, developed over 20 years running service-oriented nonprofits. It could also be that she and the Democrats around her knew deep down that this was just a rebuilding year. Republicans weren't likely to lay down, even for the daughter of Sam Nunn, the former longtime Georgia senator.
"The state is changing but not as rapidly as Democrats had hoped or needed to win," said Charles Bullock, a political scientist at the University of Georgia. "It was a bit premature, all the talk of the Democratic time bomb that was going to go off on the Republican Party."
No History
In the end, Nunn didn't make history, or really even come close in the Nov. 4 vote. Perdue won with 53 percent to her 45 percent, about the same percentage President Barack Obama received in losing the state to Mitt Romney in 2012. And that was the problem for Nunn, who needed to run about four points ahead of Obama's 2012 performance to win the election without a runoff. She did that in just two of Georgia's 159 counties and ran behind Obama in more than 100 more.
More than anything else, it shows that even for a Democrat like Nunn with plenty of built-in advantages -- a famous name, ample campaign funding and demographic shifts moving in her favor -- Georgia is still several years from being a state where Democrats can reliably win. It's as inhospitable as other parts of the South to the party's candidates.
Even so, Nunn's defeat wasn't a total loss for Democrats pushing back against more than a decade of Republican dominance. Democrats took the opportunity of a serious candidate, in an open race, to organize. The focus of their effort was on blacks, Hispanics and non-Southern whites, a Democrat-friendly coalition likely to one day flash over.
'In Play'
Democrats once had looked to 2018 as a pivotal year for that sea change, said Andra Gillespie, a political scientist at Emory University in Atlanta. They surprised themselves this year when Nunn looked more competitive than expected, she said. Just a couple of years ago, Georgia's Democratic Party was seen to be in "shambles," she said.
During her concession speech last night at a downtown Atlanta Hyatt, Nunn focused on the progress.
"We put Georgia in play," she said. "We have reminded people what a two-party system looks like."
A Nunn internal strategy memo, which became public in July after being briefly posted to the Web months earlier, showed the campaign setting a goal to get 30 percent of the white vote. That was in addition to driving up black and Hispanic turnout. Exit polls show she may have hit her targets for minority turnout while falling short among white women.
Courting Minorities
Nunn won 26 percent of whites, a percentage held down by just 30 percent of white females casting a vote for her, Bullock said. Nunn needed to peel off closer to 40 percent of the white female vote to offset a predictably low share of white men, especially in a year when anti-Obama sentiment is running high.
The need to court racial minorities and women was one Nunn avoided talking about in the closing days of the campaign, changing the subject to the need for all Democrats to rise up, whenever she was questioned by reporters. Brandon Brown, a 39-year-old Nunn supporter, spoke for her, though, on the sidelines of a stop in Augusta the day before the election.
"This is the most important election in our generation," he said. "For African-Americans, a non-vote in this election is a non-vote for the president, and that's just where we are."
While Democrats' optimism may have been overdone in hindsight, it wasn't unfounded.
Nunn's father was known for his staunch advocacy of national defense and for saving job-heavy military bases from the chopping block. The name recognition was especially helpful in a year when incumbent Republican Senator Saxby Chambliss retired, leaving the seat open.
Echoes of Romney
The Democrats had other help, too. Nunn cast opponent Perdue as an out-of-touch Romney 2.0 who outsourced jobs while a corporate executive. Perdue then played into her strategy, telling a reporter he was proud of his outsourcing work, said Bullock, the political scientist.
"Nunn didn't make rookie mistakes," Bullock said of her ability to stay focused on her message.
During her final campaign push this week, Nunn traveled with her husband and kids in a Chrysler minivan. The novice was as good as any incumbent in sticking to her themes. She promised to break the ideological deadlock in Washington as well as to raise the minimum wage, preserve Social Security by cutting the federal budget and push for equal pay for women.
The question now is how well the Democratic Party mobilized voters and whether the organization they created can track and cultivate the growing Democratic base. Democrats also have to reach progressive white voters moving into the state from other regions.
Assessing Voters
In Nunn's strategy memo, consultants said the Democratic Party was working with an analytics company founded by Obama aides that assigned scores to assess likely Democratic voters. The idea was to segment the electorate much the way packaged-goods companies do consumers, so messages can be tailored to their individual desires and money used efficiently.
In addition, state Democratic canvassers focused on areas with heavy populations of black, Hispanic and Asian voters. For good reason.
The percentage of white registered voters plummeted to 59 percent in 2012 from 72 percent 10 years earlier, according to Georgia election officials. Getting those voters to the polls is the trick. Keeping them coming back will be crucial.
The strategy was in full view 24 hours before the polls closed. Nunn's Midtown Atlanta headquarters buzzed as well over 100 volunteers crowded around folding tables eating Goldfish crackers and dialing Democratic voters from their mobile phones. Many pressed their hands against one ear to hear over the din. They used software called HubDialer to urge voters to the polls.
Mayor Critical
The phone bank was part of a joint effort by Democrats to get out the vote for Nunn and gubernatorial candidate Jason Carter, the grandson of former President Jimmy Carter. He, too, lost on Nov. 4.
Atlanta Mayor Kasim Reed said Nunn's high-tech micro-targeting came at the expense of more traditional means. She could have attracted more black voters.
"You have to reach them where they are and in the places where they are accustomed to being reached," he said. "And that is the churches, the barber shops, the street corners, the beauty shops."
Not all of Georgia's demographic shifts mean certain votes for Democrats, especially not by 2016 or even the next midterm election, Gillespie said. While a new generation of minority voters -- some born of immigrant parents -- come of age to vote, they are expected to infuse the Democratic Party with new blood. It may take time to develop a voting habit, however.
What's more, Republicans have stepped up their efforts to reach minorities and woman after a pounding at the polls two years ago. That sets up a crucial series of election cycles in Georgia's balance of power, said Mark Rountree, a Republican strategist and pollster.
"The state is very clearly in play," he said. "In 2016 it will be even but by 2020 it will be moved all the way over to probably a blue state if current demographic trends continue."
Before it's here, it's on the Bloomberg Terminal.
LEARN MORE