Why Are Voters Anxious? Look At Their Paychecks
Mike Dorning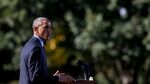 Eleven days before midterm elections comes fresh evidence of why voters are unhappy: even those with a full-time job are probably making less than they did before the recession.
The typical American worker's weekly earnings, adjusted for inflation, were lower during the July through September quarter than in the third quarter of 2007, the last such measurement before the recession started, Labor Department data released yesterday showed.
Even as the unemployment rate dropped to 5.9 percent in September from a peak of 10 percent and a soaring stock market brought financial gains for the wealthy, there has been only sluggish improvement in the living standards of middle-class Americans during President Barack Obama's administration.
The Labor Department said median usual pay for Americans employed full-time was $790 per week in the third quarter. That's about a dollar less per week than in the third quarter of 2007, using the department's adjustment for inflation. There's been no net gain for those workers since 1999.
The Labor Department pay data captures the experience of ordinary American full-time workers.
Unlike some other income data reported by the government, it excludes the impact of joblessness, public assistance, investment income and workers forced to take part-time jobs because they cannot find full-time employment.
In September, 7.1 million Americans worked part-time for economic reasons, down from a peak of 9.2 million in March 2010, though still higher than the 4.5 million who did so in November 2007, on the eve of the recession.
Electoral Drag
Slow wage growth has been a drag on the Democratic Party's drive to hang on to its majority in the U.S. Senate in the Nov. 4 election and contributed to the slide in Obama's approval ratings.
Obama has said repeatedly in speeches that he recognizes the impact of flat incomes.
"There's still a lot of folks who, at the end of the month, are having trouble paying the bills," he said Oct. 3 at a steel plant in Princeton, Indiana. "Wages and incomes have not moved up as fast as all the gains we're making in productivity."
Fifty-three percent of registered voters disapprove of Obama's handling of the economy, according to a NBC News/Wall Street Journal poll conducted Oct. 8-12.
Before it's here, it's on the Bloomberg Terminal.
LEARN MORE