Hillary Clinton No Longer Believes That Companies Create Jobs
From capitalist to populist in just a few months.
by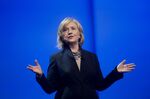 Hillary Clinton has flip-flopped on whether companies create jobs—and she's done it since her book came out in June.
Here's what she said Friday, as she tried to bask in the populist sun of Massachusetts Senator Elizabeth Warren at a Boston rally for Democratic gubernatorial candidate Martha Coakley:
"Don't let anybody tell you that it's corporations and businesses that create jobs."
That's an acrobatic pivot from what Clinton wrote in "Hard Choices." As she wrote in one passage:
"There were still too many barriers and restrictions, but American companies were slowly gaining access to Indian markets, creating jobs and opportunities for people in both countries."
Here's another:
"We had worked with the U.S. Chamber of Commerce to organize the trip because more trade between America and South Africa promised to create jobs and opportunities in both countries."
And then there's Chapter 22, "Jobs and Energy: A Level Playing Field," which details Clinton's work to help American companies compete abroad.
"When I became Secretary in 2009, I focused on two big questions about the global economy: Could we sustain and create good jobs at home and help speed our recovery by opening new markets and boosting exports? ... And were we going to let China and other relatively closed markets continue to rewrite the rules of the global economy in a way that would surely disadvantage our workers and companies?"
A Clinton spokesman did not immediately reply to an emailed request for comment.
Before it's here, it's on the Bloomberg Terminal.
LEARN MORE