Ben Bradlee, Washington Post Editor During Watergate, Dies at 93
Kathryn Harris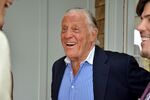 Benjamin C. Bradlee, the editor who transformed the Washington Post into a leading U.S. newspaper with the pursuit of the Watergate break-in story, which culminated in the resignation of President Richard Nixon in 1974, has died. He was 93.
He died yesterday at his home in Washington, the Post reported. He was receiving hospice care at home and had Alzheimer's disease, his wife, longtime Washington Post writer and contributor Sally Quinn, said last month in a C-Span interview.
After stepping down as executive editor in 1991, Bradlee continued to go to work almost daily as the Post's vice-president-at-large. His exuberance, blunt speech and passion for news kept him in the public eye into his 80s.
Handsome and Harvard-educated, impeccably dressed in custom-made suits and Turnbull & Asser shirts, Bradlee moved easily in Washington society and was a neighbor and confidant of John F. Kennedy when the young senator from Massachusetts campaigned successfully in 1960 to become president. Bradlee had covered the race for Newsweek magazine.
Shortly after Kennedy's inauguration, Bradlee helped engineer the sale of Newsweek to the Washington Post Co. and became the weekly's Washington bureau chief. In 1965, he moved to the Post after lobbying Katharine Graham, the newspaper's controlling owner, to put him next in line to become managing editor. That promotion came within three months, and in 1968, Bradlee became executive editor.
Strong Partnership
He never ceased to thank Graham for providing "the chances to do what I feel I was put on this earth to do," he wrote in his 1995 memoir, "A Good Life."
Graham and Bradlee both came to regard their work relationship as a great partnership.
"Probably Ben was less capable as a manager than as a finder of talent, but he somehow managed by osmosis," Graham said in "Personal History," her 1997 autobiography. "The important thing was that he excited people under him, eventually corrected whatever mistakes he made, and moved on."
Nothing demonstrated their common resolve more than their decisions to press the investigation of Watergate from 1972 to 1974 and, earlier, to publish what became known as the Pentagon Papers.
To Bradlee's dismay, the New York Times broke the news of the Pentagon Papers, a 7,000-page secret government history of the war in Vietnam. The Times detailed the study over several days, starting on June 13, 1971, while the Post raced to get its own leaked copy.
Defying Injunction
As the Times battled a federal injunction banning it from publishing more stories about the classified Defense Department study, the Post finally got several thousand pages of the report from the Times' source, Daniel Ellsberg, a U.S. military analyst at Rand Corp. Bradlee's reporters pored over the documents as he debated his newspaper's lawyers, who argued that the court order applied to the Post, as well.
Graham sided with Bradlee, and the newspaper began publishing articles based on the documents on June 18. About two weeks later, the U.S. Supreme Court ruled in favor of the newspapers. The court affirmed the First Amendment right to publish over the government's desire to protect secrets.
The Post's decision to run the stories, which described how the government had misled the public and Congress about the Vietnam War, permanently changed "the ethos of the paper" and "crystallized for editors and reporters everywhere how independent and determined and confident of its purpose the new Washington Post had become," Bradlee wrote in his memoir.
Watergate Scoops
The Post's determination was displayed again as reporters Bob Woodward and Carl Bernstein, with Bradlee's backing, dug into a June 1972 break-in at Democratic National Committee headquarters at the Watergate hotel and office complex. In a string of stories that traced the crime to the Nixon White House, the Post led the way on the biggest political scandal in American history.
In "All the President's Men" (1976), the Oscar-winning film version of the Woodward and Bernstein book, Jason Robards portrayed Bradlee as the tenacious, sometimes profane, editor who pushed and challenged his reporters and ultimately backed their work.
The movie showed how Bradlee decided to trust Woodward and his anonymous source, who came to be called Deep Throat, even though he didn't learn his identity until after Nixon's resignation.
Pulitzer Prizes
With Woodward and Bernstein, Bradlee then kept the secret for three decades, until W. Mark Felt, a former No. 2 official at the Federal Bureau of Investigation, disclosed in 2005 to Vanity Fair magazine that he was Deep Throat. Felt died in 2008 at age 95.
The Post won 18 Pulitzer prizes during Bradlee's tenure. He returned one, awarded to Janet Cooke in 1981, after she confessed that she had fabricated her riveting feature story about an 8-year-old heroin addict. Calling the debacle the low point of his career, Bradlee offered to resign, though this proposal was rejected by Donald E. Graham, who had succeeded his mother as publisher.
Benjamin Crowninshield Bradlee was born in Boston on Aug. 26, 1921, to a family that ranked among the city's cultural and social Brahmin elite. Later, he would marvel at his cloistered childhood, noting that he never met a black person until college and had no Jewish friends until he took his first full-time newspaper job in his 20s.
Privileged Upbringing
Bradlee was the second of three children born to Frederick Josiah Bradlee Jr., an All-American college football player and an investment banker in the 1920s, and the former Josephine de Gersdorff, the daughter of one of New York City's top lawyers.
The family had governesses and servants until the Depression, when Bradlee's father lost his $50,000-a-year salary and struggled with odd jobs that included maintaining the books of country and city clubs in exchange for continued membership.
Wealthy relatives helped pay the tuition for private schools for Bradlee and his older brother, Frederick Josiah Bradlee III, and younger sister Constance.
Bradlee attended St. Mark's School in Southborough, Massachusetts. One summer his father helped him land a job as a copy boy at the Beverly (Massachusetts) Evening Times, in the North Shore town where the family spent their summers. The experience ignited an interest in journalism. In his senior year, he was yearbook editor and a member of the debate team.
Harvard Years
He enrolled at Harvard University, in Cambridge, Massachusetts, following the footsteps of his brother, father and grandfather. Although Bradlee reveled in the freedoms of college, he couldn't ignore the political storms in Europe, as the German army marched into Poland the week before he registered as a freshman. He attended ROTC drills, played freshman baseball and tried out for the Harvard Crimson.
Bradlee received his diploma, was awarded a Navy commission and married Jean Saltonstall in the space of a few hours on Aug. 8, 1942.
He spent most of the next four years aboard destroyers in the Pacific. Later, he would conclude that the lengthy wartime separation doomed his first marriage, which ended in divorce in 1955 after producing a son, Benjamin Bradlee Jr., who also would go into journalism.
After the war, Bradlee worked as a reporter at the New Hampshire Sunday News, in Manchester.
Feeling Restless
Starting a job at the Post in 1948, he moved his young family to Washington's chic Georgetown neighborhood. He grew restless covering local news and worried about his low salary as friends at law firms and government posts forged ahead. In 1951, he accepted a friend's offer to work as the assistant to the press attache at the U.S. Embassy in Paris.
He learned to field questions from journalists, including humor columnist Art Buchwald, who would become a close friend.
About two years later, Bradlee returned to journalism as the European correspondent at Newsweek. He soon fell in love with the former Antoinette "Tony" Pinchot, the wife of a Washington lawyer and mother of four who was touring Europe with her sister. After each obtained a divorce, they married in 1956.
In 1957, Bradlee was assigned to Newsweek's Washington bureau. He and his wife befriended John and Jacqueline Kennedy in 1959. Ties were strengthened by having young children of similar age, as Bradlee and Pinchot had a son, Dominic, and a daughter, Marina. The couple divorced in 1975.
JFK Assassination
The friendship was such that, hours after Kennedy's assassination on Nov. 22, 1963, the Bradlees were asked to go to Bethesda Naval Hospital to meet Jacqueline Kennedy when she flew home from Dallas, still in her blood-stained suit, with her husband's body.
Bradlee often faced questions about whether the Post kept quiet about John Kennedy's well-documented extramarital indiscretions because of their friendship.
"Times have changed, and the press simply did not feel compelled to document the sex lives of their politicians," he wrote in a 1997 discussion on the Post's website.
Philip Graham, the Post Co.'s brilliant but troubled chief executive officer, committed suicide in 1963 at age 48. Katharine, his widow, took over and made Bradlee her first major hire in 1965.
Bradlee replaced the traditional women's pages with the "Style" section, covering culture and newsmakers in a lively, irreverent way. One of its star reporters, Sally Quinn, would become his third wife in 1978. The couple had a son, Josiah Quinn Crowninshield Bradlee, known as Quinn.
Bradlee stepped down as executive editor in 1991 at age 70, several months after Katharine Graham retired. In 2013, he received the Presidential Medal of Freedom, the nation's highest civilian honor.
Before it's here, it's on the Bloomberg Terminal.
LEARN MORE