Three Republican Campaigns That Tell Us Where the 'War on Women' is Headed
by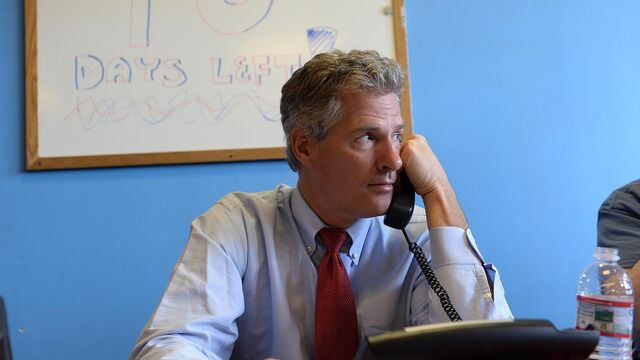 Six months ago, Michigan's Republican U.S. Senate candidate, Terri Lynn Land, cut a gimmicky ad and convinced the press that it was a humdinger. The spot, titled "Really," was undeniably hooky. Land faced a camera, told viewers that Democratic Representative Gary Peters was accusing her of waging a "war on women," and sipped from a cup as quasi-Jeopardy music played.

Also on Bloomberg Politics: Liberals and Conservatives Consume News Differently, Study Finds
The political press corps and punditocracy, looking at polls that showed a tight Senate battle, pronounced the ad brilliant. "Good stuff!" said CNN's John King after playing the ad on his show.
"There's a fantastic ad," said The Washington Post's Nia-Malika Henderson. "It really is a fantastic ad." Henderson simultaneously wrote up a review of Land spot as "one of the standout ads of the season" and possibly "the GOP's best response to the 'war on women.'"
With the benefit of time, we can see what should have been blatant -- the ad was less Avatar, more Ishtar. Via RealClearPolitics, here's a chart of polling in the Land-Peters race since April, when the ad ran.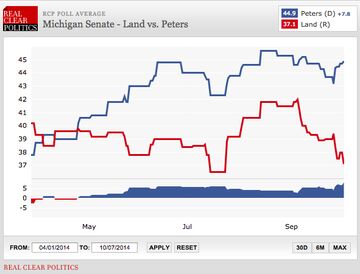 What accounts for the Peters lead? I'll give you one guess. Yep: According to the latest polling he's up to a 17-point lead over Land with women voters. "Land's defense of her agenda that cuts access to mammograms, restricts access to contraception, and opposes equal pay for women is summed up in that now infamous 14 seconds of silence," says Peters spox Haley Morris.
Land's campaign fooled a lot of people with its early polling strength, and even Nate Silver initially judged her to be an "excellent candidate" because she didn't emerge from the "Tea Party wing" of the GOP.  On Thursday, Henderson returned to the subject by asking if Republicans have "finally found a way to defuse the 'war on women' attack," which she insisted Democrats have stopped making so explicitly anyway, and that Land-style "mockery" has remained part of the tool kit. (Curiously, she cites the West Virginia U.S. Senate race that pits a female Republican against a female Democrat as proof of this.)
Her other examples of fight-backs look far more defensive. First, there's Scott Brown, who legally crossed the New Hampshire border to run for Senate in that state, talking straight to camera about his pro-choice views. It's one of four items uploaded to Brown's campaign video channel about this, which suggests that "mockery" hasn't killed the meme.
The "smear" Brown refers to is a Shaheen ad that resurrects a pro-life "right to know" bill Brown sponsored in 2005, which would have required doctors to show women photographs of the developing fetuses in a last-ditch attempt to get them to consider adoption. Brown is "fighting back" against the "war on women meme" in the same way that Grenada fought back against American troops in 1983. He's ceding most of the argument: He's trustworthy on choice, he says, because he favors it broadly. It's similar to the tactic deployed by Thom Tillis in North Carolina and Ed Gillespie in Virginia, of coming out for over-the-counter access to oral contraception. It's a concession, which is de facto admission that the "war on women" was hurting their candidacies.
Another ad spotlighted by Henderson, a straight-to-camera spot from Wisconsin Governor Scott Walker, is not quite so defensive. Instead, it's slippery. Walker says that considering abortion is "agonizing" for women, and that's why he supports "safety" and "more information for a woman considering her options," while leaving "the final decision up to the woman and her doctor." As Jessie Opoien explains, Walker has supported legislation that requires "women to undergo ultrasound exams before getting abortions and mandates that doctors who perform abortions have admitting privileges at a hospital near their clinic" -- or as Walker puts it, "more information" and "safety." This isn't a defensive exercise so much as a rebranding exercise.
Where is the GOP actually on offense? In Colorado, where it took some time and effort to till the soil. For a long time, and especially since Todd Akin's 2012 implosion, pro-life groups have argued that their candidates need to reframe what abortion "extremism" is. If they're caught up defending transvaginal ultrasounds, they'll lose. Better to force Democrats to defend late-term abortion, which remains unpopular. According to Gallup, only 28 percent of voters support legal abortion "under any circumstances," which suggests that Democrats can suffer if they're seen to hold that position. 
That's nearly what happened in Colorado, where Democratic Senator Mark Udall – who has tried to disqualify Representative Cory Gardner with women by publicizing his old backing of a "personhood" bill -- has been pressed to consider extreme abortion scenarios. Eli Stokols, a reporter who tied Gardner into knots over personhood, attempted to do the same with Udall.
"You believe in a woman's absolute right to make her own health care decisions, even if sometimes that includes late-term or sex-selective abortions?" asked a debate moderator.
"That, late, late -- look," said Udall, searching for his words. "We should trust the woman and her family and her religious counselors."
For once, the Democrat was on defense. So was Gardner, sure, but the three states discussed here all went for the Obama-Biden ticket twice. In each case, it's a problem to appear too anti-choice; there's an opportunity if the Democrat can be portrayed as too zealously pro-choice.
Before it's here, it's on the Bloomberg Terminal.
LEARN MORE