Malala Yousafzai Shares Nobel Prize for Children's Rights
Khurrum Anis and Saleha Mohsin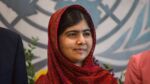 Malala Yousafzai, the Pakistani schoolgirl who was shot by the Taliban, and India's Kailash Satyarthi were awarded the Nobel Peace Prize for their advocacy of rights for children.
"It's a prerequisite for peaceful global development that the rights of children and young people be respected," the Norwegian Nobel Committee said in awarding the 8 million-krona ($1.1 million) prize. "In conflict-ridden areas in particular, the violation of children leads to the continuation of violence from generation to generation."
Yousafzai, 17, became the first teenager to win the prize, announced in Oslo. Satyarthi, 60, gave up his career as an electrical engineer in 1980 to start a movement to end child labor and exploitation. His organization has rescued more than 80,000 children from bondage, trafficking and exploitative labor, according to a biography distributed by his office.
"This award is really an encouragement for me to go forward, to believe in myself, to know that there are people who are supporting me," Yousafzai said at a press conference in Birmingham, U.K., after she decided to finish her schoolday first. "We're standing together. We all want to make sure that every child gets quality education."
Gandhi's Spirit
Thorbjoern Jagland, the head of the committee, said at the announcement that Satyarthi has in Gandhi's spirit mobilized public opinion, in India and in other countries.
"It's not a compensation for the fact that Mahatma Gandhi never got the prize," Jagland said. "I don't know why he didn't get the prize. But we should then appreciate that one who is taking up his tradition gets the prize."
The prize, along with literature, physics, medicine and chemistry honors, was created by Swedish industrialist Alfred Nobel and first awarded in 1901. Winners include the European Union, as well as U.S. President Barack Obama, Martin Luther King Jr. and Mother Teresa, who until today was the only other Indian citizen to win the prize.
"The prize is recognition to the hundreds of millions of children who are still languishing in slavery," Satyarthi told reporters in New Delhi. "I recall all those children who are still languishing at some mine, stone quarries, brick kiln and in homes. They remain invisible and unknown."
Big Moment
Satyarthi wrote in an article in the Mint newspaper in 2011, that India had about 60 million child laborers, far surpassing the country's official estimates of 4.3 million.
President Pranab Mukherjee said the prize should be seen as a "recognition of the contributions of India's vibrant civil society in addressing complex social problems," according to a statement.
At least 100 reporters and photographers stood shoulder-to-shoulder in the cramped lobby of Satyarthi's office today waiting for him to speak.
"He's aspired to match Gandhi's ideals and struggled all his life for this moment," daughter Asmita Satyarthi, 29, said at the office. "This is as big as it gets. Hopefully this will lead to the eradication of child labor."
The award comes during a week in which at least 14 people were killed in Kashmir, in the worst fighting between India and Pakistan in more than a year in the disputed region. The nuclear-armed neighbors have fought three of their four wars since 1947 over Kashmir, which is divided between them and claimed in full by both.
Common Struggle
"The Nobel Committee regards it as an important point for a Hindu and a Muslim, an Indian and a Pakistani, to join in a common struggle for education and against extremism," it said in a statement.
Satyarthi said the prize was a "big statement" from the Nobel committee.
"That statement has to be read, which is between the lines, not only by the government alone but by the public," he said. "By every Indian citizen and Pakistani citizen. I have worked in Pakistan, and I have traveled extensively, and I know them well. And they are very loving children."
Yousafzai said the award gives "a message of people to love, between India and Pakistan, and between different religions and we both support each other."
Yousafzai, while traveling to school in Pakistan's Swat Valley in October 2012, was shot in the head in retaliation for her campaign for girls to be given equal rights to schooling, defying threats from militants in her hometown of Mingora. The bullet struck just above her left eye, grazing her brain.
Her Story
She now attends school in Birmingham after being flown to the U.K. for emergency treatment. She gained global recognition after pledging to continue her struggle against illiteracy, poverty and terrorism. Yousafzai celebrated her 17th birthday by visiting Nigeria to campaign for the release of more than 200 school girls abducted by local militants.
"Through my story I want to tell other children all around the world that they should stand up for their rights, they shouldn't wait for someone else," Yousafzai said today. "Their voices are more powerful."
Taliban guerrillas carry out attacks in Swat, an area they previously controlled before a 10-week army offensive starting in 2009 ending their rule. The Taliban had beheaded local officials and burned schools in a two-year fight to impose their strict interpretation of Islamic law that uprooted 2 million people from their homes in the forested, mile-high valley that lies 155 miles north of the capital Islamabad.
Pakistan Proud
"This is good news not only for Malala or for her family or for the people of Swat, but for all the people of Pakistan," Interior Minister Chaudhry Nisar Ali Khan said at a press conference in Islamabad. "We're proud of this small girl, who through her bravery and commitment, at a very small age has won the Nobel Peace Prize."
Prime Minister Nawaz Sharif's office said in a text message that Yousafzai was the "pride of Pakistan."
"Girls and boys of the world should take lead from her struggle and commitment," he said.
Yousafzai has risen to fame in a country where only 40 percent of adult women can read and write. She started blogging under a pseudonym for the BBC when she was 11 years old, chronicling Taliban oppression and her love of learning. The following summer the New York Times filmed a documentary.
Basic Education
The country's former Prime Minister Benazir Bhutto was killed in an alleged Taliban attack in 2007. Pakistan has also had a female governor of its central bank, Shamshad Akhtar, as well as woman speaker of parliament in Fahmida Mirza.
Millions of Pakistani women are deprived of basic education and equal work opportunities. Of those women only 22 percent above 15 go out and work in Pakistan, compared to 78 percent of males, according to the Pakistan Bureau of Statistics.
Yousafzai has also won the Amnesty International Award, the International Children's Peace Prize and the European Parliament's Sakharov Prize. She's the second Pakistani to win a Nobel Prize after Abdus Salam, whose works in the field of particle physics earned him an award in 1979, which he shared with two other scientists.
The prize will be handed out at a ceremony in Oslo on Dec. 10, the anniversary of the death of Nobel.
Satyarthi said the prize was also an honor to India.
"I've always said India is mother of hundreds of problems, but it is always mother of millions of solutions," he said. "We Indians are able to find solutions not only for us but also for the world."
Before it's here, it's on the Bloomberg Terminal.
LEARN MORE